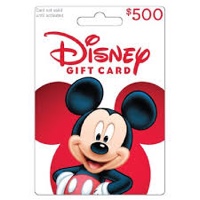 Update: If you have an American Express Business card, look in the Amex Offers section of your online account page for 20% off a single in-store Sam's Club purchase of $100+ (limit of to $250 back). You could use this offer a variety of ways, but one of them is to stack with the Disney Gift Card discount below. Thanks also to commenter Jamie. Here's a screenshot (click to enlarge):

I bought 9 of the $150 face value packs at $142.98 each, for a total cost of $1286.82. (The $500 cards were not available in my store, and there were no transaction limits posted.) That would reach the max discount of $250 (20% of $1,250). Therefore, I will have gotten $1,350 of Disney credit and paid $1036.82, a 23% combined discount. (I'll also get credit card rewards from the purchase.) If you were going to spend that much money on a Disney vacation or cruise anyway, that's a $313.18 savings.
Original post:
If you are planning a Disney-related vacation, especially a package deal or Disney Cruise, I wanted to point out a current way to get 10%+ off of Disney gift cards. Act quickly though, as part of this deal will stop at the end of the 2016.
First 5% off. Right now, Sam's Club is selling Disney gift cards at roughly a 5% discount to face value. There are two options:
Sometime they're in stock online and sometimes they are only available in-store. The $500 gift card may be seasonal. There may be posted limits per transaction in the stores, but I've read several reports that you can buy more if you make separate purchases spaced apart (wait until the previous order is shipped and received). Alternatively, you can have a friend or family member buy them and pay them back.
Disney Gift Cards are valid at many places:
Walt Disney World® Resort (including hotels, restaurants, gift shops, etc.)
Disneyland® Resort
Disney Cruise Line
Disney Store locations in the U.S.
DisneyStore.com
Disney PhotoPass™
Disney Vacation Club®
Adventures by Disney®
Aulani, A Disney Resort & Spa in Ko Olina, Hawaii
Disney's Hilton Head Island and Vero Beach resorts
Second 5% off. In addition, both Chase Freedom and Discover have Sam's Club as one of their quarterly 5% cash back categories until December 31st, 2016. That means you could theoretically get 5% back on $1,500 of Disney gift cards per card account. Discover also has Sam's Club in Q1 2017, but not Chase Freedom. (If you and a partner both had a Chase Freedom and a Discover, that would cover up to $6,000 in total purchases in Q4 2016 and another $3,000 in Q1 2017.)
Finally, up to another 2% off? You can technically get another 2% discount on your Disney vacation package with the Disney Vacation Account. For every $1,000 you load into the account and spend on qualified vacation purchases, they will give you a $20 Disney gift card. Qualified purchases include:
Walt Disney World® Resort in Florida
Disneyland® Resort in California
Disney Cruise Line®
Aulani, A Disney Resort & Spa in Ko Olina, Hawaii
Adventures by Disney®
You can load your Disney Gift Cards into this account, although only up to $500 will count towards the DVA bonus.
You'll be eligible for a $20 Disney Gift Card for every $1000 you spend on qualified vacation purchases with your Disney Vacation Account prior to December 31, 2017 (date subject to extension), up to a total $500 in Disney Gift Card(s) per household.
If you have a big package deal like a Disney Cruise, it's not that much hassle to buy these gift cards and directly apply them to your balance. On a $3,000 cruise or vacation package, getting 10% off is a $300 savings.