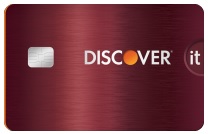 Scrappy little Discover is trying something bold. They've chucked everything and started fresh with only one card – the new Discover it® Double Cash Back your first year. (Yes, lowercase, don't ask me why.) No longer promoted are the Discover More, Motiva, Open Road, Escape, and Miles cards.
In fact, you may want to convert your old Discover card to this one. The new card is a definite improvement over the old products, with many positive changes in direct response to the competition. Here are the highlights:
We'll double all the cash back you've earned at the end of your first year. So if you earned $101 cash back, we'll double it to $202—Automatically. Only for new cardmembers.*
5% cash back in categories that change each quarter like gas, restaurants, home improvement stores and more—up to the quarterly maximum when you sign up.* 1% cash back on all other purchases.
0% intro APR* on purchases & balance transfers for 12 months—then a variable purchase APR applies, currently 11.24% – 23.24%. A 3% fee applies to each transferred balance.
Freeze It? on/off switch lets you prevent new purchases, cash advances & balance transfers on misplaced cards in seconds by mobile app & online.* Plus get 100% U.S.-based service.
Track your recent FICO® Credit Scores for free in one easy-to-read chart on monthly statements & online.*
No annual fee.* No overlimit fee. No foreign transaction fee. No late fee on first late payment & paying late won't raise your APR.*
Each Discover purchase is monitored. If it's unusual, you're alerted by e-mail, phone or text and you're never responsible for unauthorized purchases on your Discover card.
*See rates, rewards, FICO® Credit Score terms & other information.
Is it really a game-changer? Well, no. It's not quite "one card to rule them all", but it does combine the good bits from several other popular cards (Chase Sapphire, Chase Freedom, Citi Simplicity) to create a competitive offering. I like the 10% categories that are usually pretty broad and useful.
Discover is still the underdog to American Express/Visa/Mastercard, but it has its own perks. There are bonuses above cash back value for certain gift card redemptions. Their ShopDiscover cashback portal also often has the highest percentages for online shopping merchants, like 10% at Sears, better than eBates and such. Finally, Discover card has a lot of consumer features like return protection and an extended warranty that extends the manufacturer's warranty for up to an extra year.
Basically, this Discover card is certainly improved and a worthwhile addition to your wallet, although rewards geeks like myself probably won't it the only card in our wallets. 😉
Existing cardholders. I have not gotten any communication from Discover that my existing cards will be converted to an "it" card automatically. Readers report that if you call them up, they will convert you to the new card manually for free. You get to keep your same card number and thus credit history. Certain people with annual fee miles-type cards or those doing a 0% balance transfer promotion may prefer to stay, but again I think this card is definitely better than the plain Discover and Discover More cards.
"Disclaimer: This content is not provided or commissioned by the issuer. Opinions expressed here are author's alone, not those of the issuer, and have not been reviewed, approved or otherwise endorsed by the issuer. This site may be compensated through the issuer's Affiliate Program."
"The responses below are not provided or commissioned by the bank advertiser. Responses have not been reviewed, approved or otherwise endorsed by the bank advertiser. It is not the bank advertiser's responsibility to ensure all posts and/or questions are answered."