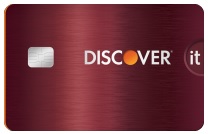 The Discover it® card is a rewards credit card that offers 5% cash back on rotating categories each quarter and no annual fee. Right now, new cardholders get double their cash back during the entire first year ("Cashback Match"). This means that their 5% cash back on specific categories each quarterly will effectively get doubled to 10% cash back. Here are the highlights:
We'll double all the cash back you've earned at the end of your first year. So if you earned $101 cash back, we'll double it to $202—Automatically. Only for new cardmembers.
5% cash back in categories that change each quarter like gas, restaurants, home improvement stores and more—up to the quarterly maximum when you sign up. 1% cash back on all other purchases.
Freeze It on/off switch lets you prevent new purchases, cash advances & balance transfers on misplaced cards in seconds by mobile app & online.
100% U.S.-based customer service.
Free FICO credit scores updates on your monthly statement.
No overlimit fee. No foreign transaction fee. No late fee on first late payment & paying late won't raise your APR.
No annual fee.
From October 1st through December 31st, 2023, you can earn 5% cash back on up to $1,500 spent in the following categories:
Amazon.com
Target (both in-store and online)
Enroll after logging into your online account (look on the right-hand side). 5% rewards won't apply until after you activate your rewards, so it is best to activate now before you forget. No annual fee.
Discover it $100 bonus details. If you are a new applicant and sign up via my Discover Card referral link, you will get a $50 improved $100 Cashback Bonus after your first purchase within 3 months of being account opening. You will also get Cashback Match for an entire year – a dollar-for-dollar match of all the cash back you've earned at the end of your first year, automatically. During those 12 months, your 5% cash back rewards becomes 10% cash back, and your 1% cash back rewards become 2% cash back. You can verify this on the application by looking under "Terms and Conditions" or searching for "cashback match" and "statement credit offer":
Cashback Match:
We'll match all the cash back rewards you've earned on your credit card from the day your new account is approved through your first 12 consecutive billing periods or 365 days, whichever is longer, and add it to your rewards account within two billing periods.
* You will receive a $100 Statement Credit after making a purchase within three months of account opening. You must apply through your friend's referral link and be approved by December 31, 2023 in order to be eligible for the $100 Statement Credit offer. Offer may not be combined with any other introductory offer. Promotional award will be applied within 8 weeks.