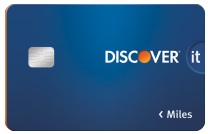 Discover started with one credit card. Over the years, they expanded to a bunch of different cards. Back in 2013, they nuked all of them and started fresh again with the Discover it. But you know that simplicity never suits large organizations…
So they are growing again, with the addition of the new  Discover it® Miles – Unlimited 1.5x Rewards Card. (Not to be confused with the old Discover Miles card… are you following?) Here are the copy-and-pasted highlights, followed by my commentary:
Unlimited 1.5x rewards on every purchase, every day. For every $1 you spend, you earn 1.5x Miles.
Get a mile-for-mile match of all the rewards you've earned at the end of your first year, automatically.
Redeem your rewards in any amount for cash or a travel credit. You'll always get $1 for every 100 Miles you've earned.
Get your FICO® Credit Score for free on monthly statements, on mobile and online.
100% U.S. based customer service. Talk to a real person any time.
No Annual Fee.
See additional Discover it® Miles details
Effectively, this is an ongoing flat 1.5% cash back card with no annual fee and a few added perks. The rewards structure is relatively simple. The card earns 1.5 Miles on all purchases, with no special categories. There is no annual fee. 100 Miles = $1 cash direct deposited into your bank account. You can also redeem at the same value towards any travel purchases, but why bother? As long as you have a bank account, I say go with the cash. So I would call this a flat 1.5% cash back card.
But for the entire first 12 months, you can earn unlimited 3% cash back! The "sign-up bonus" here is that you get double miles at the end of your first year. Since you can convert directly to cash, that means 3% cash back for an entire year. That's a rare offer, as 3% is probably more than Discover even rakes in through merchant fees. If you put a lot of spending on your credit cards, this can be a big deal.
At 3% back, many bill payment options that charge around 2% fee start looking much better. For example, if you pay estimated taxes to the IRS every quarter like I do and paying by credit card only costs 1.87% (Discover accepted). That means I can get 1.13% back on all my tax payments.
Perks include a $30 inflight WiFi credit and free FICO score every month. They also threw in no foreign transaction fees, and Discover card is pretty well-accepted in Asia (works as UnionPay in China, JCB in Japan). Discover continues other features from its non-Miles card like the free FICO, US-based phone reps, and no late fees on first late payment.
In terms of comparison, recall that I just wrote about the best 2% flat cash back cards – Citi Double Cash and Fidelity American Express. So for the first year this card wins with 3% vs. 2%, but on an ongoing basis you'll fall behind at 1.5% vs. 2%. Like I said, the 2% cards offer a solid minimum baseline, but there will often be situations where you can beat 2% like this limited-time offer or specific cards with special categories.
If you are comparing against the Capital One Venture Rewards card which is another travel-oriented card that offers 2 "miles" per dollar, the major differences are that it has a $59 annual fee and no $30 inflight WiFi credit. The no annual fee version only offers 1.25 miles per dollar.
Existing Discover cardholder? Discover's policy in the past had been to only allow one card per person, but now you can have two (i.e. you can have both a Discover it and a Discover it Miles.)