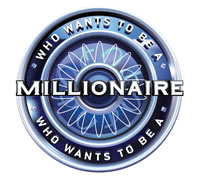 The sales pitch for American Express has always been that their cardholders are wealthy and thus big spenders, which in turn justifies their above-average transaction fees charged to merchants. The theory is a merchant won't mind paying more in fees if it is offset by higher average receipts (and thus profits). This is why Tiffany & Co takes AmEx and my favorite Indian food truck does not.
However, this recent Bloomberg article suggests that American Express is losing their millionaires because they are actually doing the math on their credit card rewards and finding the perks are better elsewhere. The title in the Businessweek magazine version is "Even Millionaires Count Their Miles". To which I say, of course they do!
As less-affluent consumers cut spending during the recession and a 2009 law known as the CARD Act limited lenders' ability to raise interest rates and charge late fees, banks revved up their pursuit of customers with top credit scores who pay their bills on time.
The article quotes hedge fund manager Whitney Tilson, who switched from using American Express for 30 years over to the new Barclaycard Arrival Plus World Elite MasterCard (my review). He states:
The difference between getting 1 percent and 2 percent cash back is thousands of dollars and for that amount of money, Barclaycard has a better offer […]
(I should mention that Tilson is well-known as a disciple of the Graham-Dodd-Buffett-Munger school of value investing. You would think value investors would know a good deal. 🙂 Of course, you could also flip that as the largest shareholder of American Express is… Berkshire Hathaway.)
The problem is that the American Express Platinum used to be "the" card for affluent travelers because it got you into any of the airport lounges from all major carriers. But now if you want access to all American lounges, you need the premium Citi co-branded credit card. To get access to United lounges, you need the premium co-branded Chase card. And so on. AmEx even started building their own airport lounges, but so far there are only four of them. Nowadays, unless you redeem Membership Rewards for frequent flier miles and use them wisely, it is hard to get even 1 cent of cash for 1 MR point these days. Even a plain-vanilla rewards card will pay you 1% cash back and more importantly their direct competitor Chase Ultimate Rewards will get you 1 cent back or 1.25 cents towards travel.
Here's the Bloomberg graphic of credit cards that cater to "affluent consumers":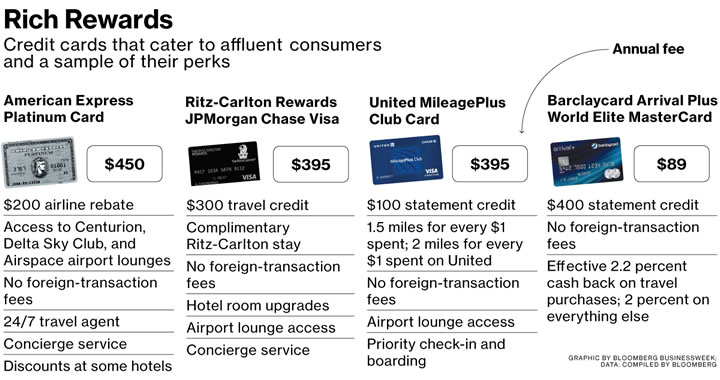 I want to point out that the graphic is misleading because the AmEx gives a $200 travel credit every year while the Barclaycard $400 statement credit is one-time only. I do agree the Barclaycard at 2.2% back towards travel is good if you have travel charges that you redeem against, and the $400 upfront bonus counters the $89 annual fee.
Not mentioned in the article are two cards that I think are solid no-brainer cards for anyone. Both earn double the cash back from ordinary 1% cards and have no annual fee. Unless you are redeeming frequent flier miles for business class tickets or hotel points for luxury stays (which I try to do with part of my credit card rewards), it is unlikely you are getting more than 2 cents a point.
If you charged $100,000 a year, getting 2% instead of 1% would be an extra $1,000 a year back. Even if you charged $10,000 a year, that is an extra 100 bucks. You don't need to be wealthy to appreciate simple cold, hard cash. Because there is no annual fee, I think everyone, including millionaires, should have one of these in their wallet.