Fidelity has released an infographic [pdf] about the power of saving 1% more of your income: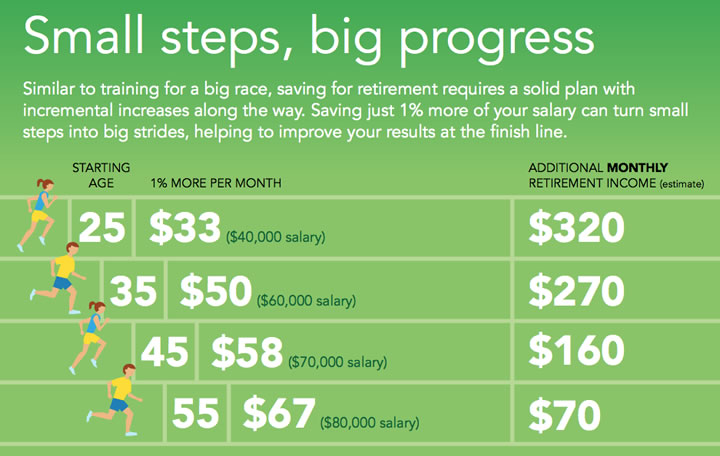 To coincide with this, Fidelity started a related promotion to entice folks to move over their IRA assets to them. The Fidelity IRA Match is designed to mimic the 401(k) contribution matching that many employers offer, where Fidelity will match between 1% and 10% of your future contribution for 3 years if you roll over $10,000+ to them. Valid for both new and existing Fidelity customers, but only for IRAs and not other account types. Here's the breakdown:
| | | |
| --- | --- | --- |
| Qualifying transfer* | Match rate | Estimated max benefit* (age 50+) |
| $10,000 | 1% | $165 ($195) |
| $50,000 | 1.5% | $247.50 ($292.50) |
| $100,000 | 2.5% | $412.50 ($487.50) |
| $250,000 | 5% | $825 ($975) |
| $500,000 | 10% | $1,650 ($1,950) |
* Qualifying transfers must be rollovers or transfers from non-Fidelity IRAs (Traditional or Roth). Rollovers from workplace savings plans are not eligible for this offer. Estimated max benefit is based on $5,500 annual contribution for three years ($6,500 for age 50+). Max benefit is set at $1,950.
It's an interesting proposal. Keep in mind that many IRA custodians will ding you with an outgoing transfer fee if you move your money out. Also, Fidelity has other deposit promotions going on that offer a little less than the max payout here, but they are more straightforward bonuses.
To participate, you must register at www.fidelity.com/IRAmatch. If you do participate, I would like to point out the availability of their Fidelity Spartan Index funds, their Fidelity Freedom Index 20XX target-date funds which you can now purchase in an IRA, and their commission-free iShares ETFs. Fido has some good, low-cost products on their menu, but you may have to look for them.
Selected fine print:
This offer is valid for new or existing Fidelity IRA customers. In order for your IRA to be eligible to receive the IRA Match bonus, you must either designate an existing eligible Fidelity brokerage IRA or open a new eligible Fidelity brokerage IRA during the Qualification Period (defined below). Qualifying Deposits (rollovers and transfers from non-Fidelity IRAs) received in the Fidelity IRA during the Qualification Period will result in an annual matching bonus on any subsequent annual contributions made to that IRA for the current contribution year and the next two successive contribution years (the "Match Period"), as follows: deposits of $10,000 to $49,999 may receive a 1% match, deposits of $50,000 to $99,999 may receive a 1.5% match, $100,000 to $249,999 may receive a 2.5% match, deposits of $250,000 to $499,999 may receive a 5% match, deposits of $500,000 or more may receive a 10% match. During the Match Period, the IRA Match bonus will apply for up to three years from when the Match Period begins or until a customer reaches the maximum aggregate IRA Match bonus of $1,950, whichever occurs sooner.

[…] The IRA Match bonus will be calculated on annual IRA contributions made into the qualifying account during the Match Period using the applicable match percentage. Individuals must be eligible to make annual IRA contributions to qualify for the offer and must make an annual IRA contribution in each year in order to receive a corresponding IRA Match bonus for that year.

[…] The IRA Match bonus will be paid directly to the qualifying account. For purposes of this offer, net Qualifying Deposits shall mean total external rollover deposits or transfers (including cash and/or eligible securities) minus assets and/or funds withdrawn or transferred from the account within the Qualification Period.

[…] Account holders must maintain the minimum Qualifying Deposit account balance (minus any losses related to trading or market volatility) at Fidelity for at least nine months from the date on which the bonus award is credited to the account, or Fidelity may charge the account the amount of the bonus award.