The retail price for a FICO credit score from just one credit bureau is now $19.95. That's a hefty chunk of change, given that there are three credit bureaus and thus three credit scores – Equifax, Experian, and TransUnion. Before paying anything, you check out these ways to get a FREE credit score from all 3 bureaus. No trials required!
If you must have a score from myFICO.com, then here are some coupon codes that'll save you some bucks. You enter the promo code relatively late in the buying process, right before entering your credit card information. Here's what it would look like if you got a 25% off coupon code: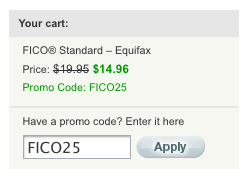 Currently Active myFICO.com Coupon Codes
none
Expired myFICO.com Coupon Codes
CPPSAVINGS
TWEET25
SW94608
FICO25
FICOHELP25
MYPOINTS30
DECEMBER26
26UNTIL2010
SURVEY30
NOVEMBER26
FINANCIALHELP25
Note: Experian no longer allows Fair Isaac to sell FICO scores to consumers at all. You can get a free Experian-based credit score from Credit Sesame.