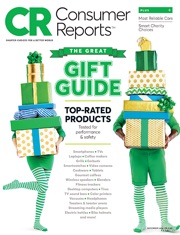 The December 2016 issue of Consumer Reports magazine includes the results from their 2016 Car Reliability Survey with over a half million data points. In this public-viewable article, CR shares the full 2017 reliability rankings by brand and the relative change from 2016. There were some significant moves up and down. Highlights:
Most reliable: Lexus and Toyota.
Most spots improved: Infiniti and Acura.
Biggest ranking drop: Volkswagen, Volvo, and Subaru.
A partial excerpt with the top rankings are below: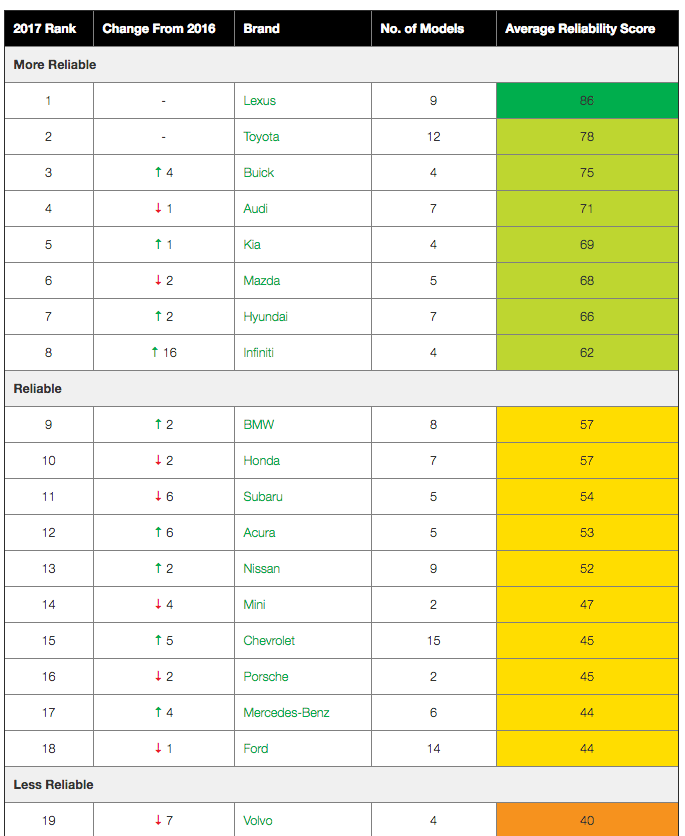 Consumer Reports also shared some commentary and tips:
Toyota and Lexus are on top again, which CR credits to their careful, gradual approach to vehicle feature changes to avoid any sudden drops in reliability.
Wait a year or two before buying a newly resigned model from most brands. It takes a while to work out the kinks.
Speaking of kinks, a common source of issues in new cars are their new infotainment screens and complex transmissions (CVT, 8/9-speed, dual-clutch, etc).
Despite providing these brand rankings, Consumer Reports recommends that you shop by vehicle and not just by brand. Some brands like Toyota and Lexus are reliable across the brand, but others like Ford have a wide range of rankings by model. Of course, you'll need full print or digital access to get those numbers.
If you don't see your brand listed, it is probably due to a lack of data points.
My thoughts. In terms of trends as compared to last year's 2015 survey, I was disappointed to see Honda slip a bit again in the reliability rankings. They dropped 4 spots last year and another 2 spots this year. On an absolute basis, Honda now has the same reliability score as BMW, whose cars have more fancy features and a history of average reliability. On the flip side, both Hyundai and Kia moved up another 1-2 spots this year after both moving up 4 spots last year, earning a solid spot together in the Top 8 "More Reliable" brands.