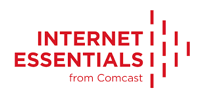 Comcast offers an affordable internet access program called Internet Essentials that provides high-speed internet service for $9.95 a month + taxes, a subsidized $150 computer with Microsoft Office, and free digital literacy training to eligible groups. Over time, they have expanded their eligibility rules and also added new features. Specifically, you now get:
XFINITY Cable Internet Service
10 Mbps download & 2 Mbps upload speeds
No credit check
No activation or installation fee
No contract
Free modem + WiFi router rental
Here are the current ways to qualify for this program.
Low-income Families. You are eligible if you have at least one child who qualifies for the National School Lunch Program. If I read the income guidelines for the NSLP correctly, a family of 4 within the contiguous 48 states can't make more than $31,590 a year to get free lunches during the 2016-2017 school year.
HUD Housing Assistance Households. You are eligible if you receive HUD housing assistance such as Public Housing, Housing Choice Vouchers (Section 8 Vouchers) or Multifamily Vouchers (Project-Based Section 8).
Seniors Pilot Program. You must be 62 years old and live in one of the current eligible areas. You must also be enrolled in an eligible state or federal public assistance program. As of mid-2016, the list includes Boston, Palm Beach County, Philadelphia, San Francisco, and Seattle.
Community College Student Pilot Program. You must be enrolled in an eligible community college, and also be a Pell Grant recipient. As of mid-2016, the list includes select community colleges in Colorado and Illinois.
In addition, for all groups, you must not have any outstanding debt to Comcast that is less than a year old. Families with outstanding debt more than one year old may still be eligible. You must also live in an area where Comcast Internet Service is available but have not subscribed to it within the last 90 days.
Problems and controversy. If you are already a low-income family that stretches to pay for Comcast internet access, you would need to cancel your existing service and then wait for a full 90 days before signing up for Internet Essentials. If the idea is to give your children the educational benefit of internet access, then it may be difficult to go without internet for 90 days.
This program is not supported with government taxes. Instead, it is a way for Comcast to make happy with various government regulators when they want to merge with another huge company. Indeed, Comcast as a monopoly or part of a duopoly in most areas may be the reason why average people are being charged $40 or $60 a month for basic internet access in the first place.
In any case, it exists, millions more households are eligible that aren't signed up, and I think it is worth spreading the word. Apply online at internetessentials.com or over the phone (1-855-8-INTERNET or 1-855-846-8376).