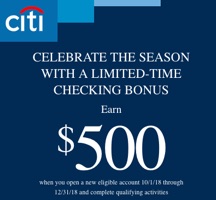 Citibank has $500 bonus offer when you open a new eligible Citi checking account 10/1/18 through 12/31/18 and complete qualifying activities. This offer is restricted to those who have not had a Citibank checking account within the last 180 calendar days.
Here are the bonus requirements, condensed from their full terms and conditions:
You must first enroll at citi.com/checkingrewards (or in-branch).
You must open a new Citibank Checking and Citi Savings Account in "The Citibank Account Package".
You must make a deposit of $15,000 or more (multiple deposits okay) in "new-to-Citibank" funds within 30 days of account opening.
For the $400 bonus, you must maintain a minimum balance of $15,000 for 60 consecutive calendar days after deposit. The $15,000 can be spread between checking and savings.
For an additional $100 bonus, you must also complete a "Qualifying Direct Deposit" into the Checking Account for two consecutive months within 60 days of account opening. Payroll works but any ACH transfer accounts (i.e. interbank ACH counts).
The $400 or $500 bonus which will be credited within 90 calendar days from the date you complete all required activities.
Note that accounts with a zero balance for 90 days are subject to automatic closure and closed accounts can't get the bonus. Therefore, always keep at least $5 in each account until you see the bonus.
Here's how to avoid monthly account fees. You must maintain a combined average monthly balance of $10,000+ in eligible linked deposit, retirement and investment accounts. A monthly service fee of $25 and a $2.50 non-Citibank ATM fee applies to the checking account in The Citibank Account Package if a combined average monthly balance of $10,000 or more is not maintained. You can view your state-specific fee schedule at citi.com/compareaccounts. Scroll down to "The Citibank Account package".
Bonus net value calculations. I like this bonus because it doesn't require too much attention. You open the accounts and deposit $15,000, which you can spread between checking and savings (be sure to maintain a non-zero amount in both). Simply leave it there for 60 days. The direct deposit requirement is easy because there is no minimum amount and you can simply initiate an ACH transfer from another bank:
A "Qualifying Direct Deposit" is an Automated Clearing House (ACH) credit, which may include payroll, pension or government payments (such as Social Security) by your employer, or an outside agency.
However, there are a few noteworthy wrinkles! The main "catch" is that even though you "qualify" for the bonus after 60 days, you may have to wait another 90 days to actually get the bonus. Meanwhile, you need to keep both Citibank accounts open and in good standing, which either requires a minimum monthly balance of $10,000 or a $25 monthly fee. If you moved the $15,000 to a 2% APY savings account after 60 days, you would earn $25 in interest each month but also have to pay a $25 monthly fee.
Earning $500 of interest on $15,000 in 60 days works out to the equivalent of about 20% APY. However, earning $500 of interest on $15,000 in 150 days is a less impressive 8% APY. You could take out $5,000 after 60 days (maintaining only the $10k minimum) to boost your effective rate back up 10% APY. Even after you account for this, you still net $375 over a 2% APY savings account over 5 months. Bonus will be reported on 1099-INT (as should be expected).
If you were interested in a Citibank checking account anyway, you can always do the bonus now and downgrade to their "Account Account Package" which has no monthly fee if you make one direct deposit, one bill pay, or a $1,500 minimum balance each month ($10 otherwise).
ThankYou points. It's not a lot, but The Citibank Account Package also earns ThankYou points for certain activities. For just having a savings and checking together, you can earn 150 points per month. For adding more things like an auto-save transaction or a linked Citi mortgage, you can get up to 450 points per month. Details here. Combine with the Citi ThankYou Premier Card which lets you redeem points for travel at a 25% bonus (1 ThankYou point = 1.25 cents towards travel).
Finally, I have done Citibank bank bonuses in the past and haven't had any issues. However, others have reported having to call them up and ask for the bonus. I would simply be sure to keep track of your promotion details and transaction dates in a Google Doc or other spreadsheet, which you should always do anyway.
Bottom line. Citibank has a $500 bonus for opening a new checking + savings account and keeping $15,000 in there for 2-5 months, along with a few other requirements like making two ACH deposits. The bonus works out to roughly 10% APY when you keep the minimum required cash there. As compared to a 2% APY savings account, the net gain is about $375.