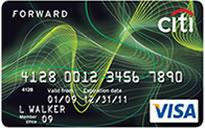 I ended up applying for the Citi Forward® Card mentioned several days ago. It ends up being great card for those who want the best rewards on eating out at restaurant and buying anything at Amazon.com. Here's why…
This card works off the same ThankYou points system as many other Citibank cards. 10,000 points = $100 gift card at stores like Sears, Macy's, Staples, Old Navy, Gap, etc. 14,000 points = $100 prepaid Visa credit card. 16,000 points = $100 in straight cash (a check sent directly to you). If you can find a store where you can use a $100 gift card = 10,000 points, that basically a penny per point.
What makes this card unique is that you get 100 points for each month you paid on time and don't exceed your credit limit, as well as a highly touted 0.25% interest rate reduction after 3 months in a row of making a purchase, staying within limit and paying on time (max reduction 2%).
You also get 5 points for every $1 you spend on restaurants, book stores, video rental stores and movie theaters. On everything else, you get the plain vanilla 1 reward point for every $1 spent. There is no annual fee for the card.
5x Rewards at Restaurants
Again, at 1 penny per point with gift cards, getting 5x points is like getting 5% back when eating out. At that rate, eating out $170 a month will get me a $100 gift card every year. Even if you convert to straight cash, that's still 3.125% cash back at restaurants (5/1.6). Or 3.57% back if you are okay with prepaid Visa card, which I am since they are usable anywhere that takes credit cards.
5x Rewards on Books = 5% back at Amazon
Here's an interesting question. Who's the most popular bookstore? Amazon.com. With the Citi mtvU card for college students, the 5% back on books worked on all purchases at Amazon, even if it wasn't 100% books, since they really have no way of telling. Update: I have verified 5x points at Amazon.com.