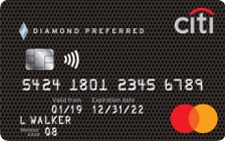 One of the most common New Year's resolutions is to pay down debt. Rewards-earning credit cards may not be optimal for those carrying balances and thus more impacted by 18% interest rates than a relatively puny 2% back on purchases. Consider the Citi® Diamond Preferred® Card, which doesn't offer a fancy rewards structure but has brought back their longest 0% APR intro balance transfer period. The highlights:
0% Intro APR on balance transfers for 21 months from date of first transfer. All transfers must be completed in first 4 months.
0% Intro APR on purchases for 12 months from date of account opening.
There is a balance transfer fee of either $5 or 5% of the amount of each transfer, whichever is greater.
No annual fee.
The strong part of this card is the long 21 month period, so you can spread out payments over 1.75 years and ideally pay it all off by the end. If you make a transfer in January 2020, that means 0% APR until October 2021. There is a 5% balance transfer fee ($5 min). However, if you're currently paying 18% APR, then 5% works out to 3 months of interest over a 21 month period. Once the intro period on all 0% cards expire, the rates will go right back up. You'll either need to pay it off or transfer your balance again if you need more time. This card lets you spread your payments out over 21 months instead of 6 or 12.
If you are certain that you can pay it off within a shorter time period, look for a card with no balance transfer fee. Compare with other low fee 0% APR balance transfer offers.
Bottom line. The Citi® Diamond Preferred® is a card targeted that for those serious about paying down their balances. The 0% introductory period of 21 months on balance transfers is the longest they offer, with a one-time 5% balance transfer fee ($5 min). No annual fee.