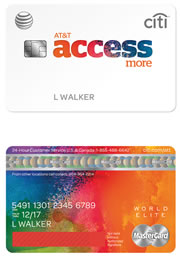 Our partner Citi has launched yet another new card, AT&T Access More MasterCard® from Citi. This AT&T co-branded card obviously targets a niche, but read on if you will be in the market for a new GSM phone in the next year ($650 is the full price of a new iPhone 6). As such, this card took a little extra research and analysis. Be sure to read all the details before applying, so you understand how to get everything possible out of this offer.
"Exclusive New Phone Offer" details. Yes, the offer screams "new phone"! But lots of ads say that. What kind of new phone? Does it include iPhone 6 or Samsung Galaxy S6? What strings are attached? Do I need to sign a contract?
You must spend $2,000 in purchases with your AT&T Access More Card within 3 months of account opening. As with other sign-up bonuses, this is the spending hurdle. The application page also says "If you buy a new phone now it will count toward the $2,000 in qualifying purchases!". At first, I read this to mean "buy a phone and you don't need to spend $2,000 anymore". Nope. It's just reminding you that if, for example, you buy a $650 phone on this card, then you'll only need to spend another $1,350 on the card to meet the $2,000 threshold.
You can get any new phone on the AT&T website. Apple iPhone 6, iPhone 6 Plus, Samsung S6, Samsung S6 Edge, flip phone, whatever.
They'll give you up to $650 back towards a new phone bought full price with no annual contract… At first this may seem like a negative, man I have to buy it at full price? But that's actually a good thing when the credit is for up to $650! For example, an iPhone 6 starts at $649.99 and Samsung S6 starts at $684.99. (Taxes, shipping, fees, and wireless service not included.)
… which also means lower monthly bills! When you essentially bring your own device (BYOD) buy buying the phone outright, AT&T will give you lower bills in the form of $15 to $25 off each month on their Mobile Share Value plans. Also, the $40 per-line activation fee is waived when you buy the phone at full price (and is not waived for 2-year contracts). More details on this below.
Since you own the phone and are not on a contract, you can also unlock it for use on any carrier. You can find unlock instructions at att.com/deviceunlock. are the AT&T unlock instructions [pdf]. Postpaid customers have an active account for at least 60 days, with no past due or unpaid balance. Non-AT&T customers can request a phone unlock before activating the phone on an AT&T plan. After submitting your request, the unlock should be done within 48 hours.
You must buy the phone using their special link. After you buy the phone, then activate it on an AT&T monthly plans of you choice for at least 15 days. Remember, you're not bound to a contract after that. It's easier just to quote from their Terms and Conditions:


You must purchase an eligible phone from AT&T with your AT&T Access More Credit Card from Citi (the "Card") using the Phone Offer Link created individually for you. This link may be accessible to you in several locations including, but not limited to, your approval screen at the time you apply, an email welcoming you to Access More Card membership (if you provide a valid email address) and through your Online Account at citi.com/att. You may redeem the Phone Offer using the link at any time after your Card account opening. Once you have made $2,000 in purchases within the first 3 months of your Card account opening, and purchased and activated your eligible phone, Citi will credit your account for the cost of the eligible phone you purchased up to $650 (exclusive of taxes, fees, shipping and wireless service) within 1 to 2 billing cycles. If you choose to purchase an eligible phone which costs more or less than $650, your credit will equal the cost of the phone or $650, whichever is less.
Side question: How does paying full price for a phone compare with the subsidized 2-year contract or the AT&T Next plan? Most people don't pay full price for a phone. It's a lot of money. AT&T Next is basically like agreeing to pay full price for a phone but they let you pay in monthly installments instead. So the $650 iPhone 6 would $21.67 for 30 months (multiply that out and you get $650.10.) Nothing really special there. The traditional alternative is that you get a subsidized phone but you enter a 2-year contract at a higher monthly bill. Here's how the two options compare:
The phone subsidy with a 2-year contract is $450, but you have a $40 activation fee. So the $650 iPhone 6 would only cost $200, plus a $40 per-line activation fee.
The monthly bill subsidy with a full price phone adds up to either $360 or $640 over 2 years. With the full price phone, there is no activation fee. If your Mobile Share Value plan comes with 6GB of data or less, you get a $15 discount per month per line. $15 times 24 months = $360. If your Mobile Share Value plan comes with 10GB or more, you get a $25 discount per month per line. $25 times 24 months = $600.
So if you compare the savings between the full price plan as 2-year contract, you're either behind by $50 over two years, or ahead by $190 over two years. So worst case you're behind by $50 at the 2-year mark, but if you kept your full price phone and cheaper-by-$15 plan for just an extra 4 months past the contract end date, you'd be ahead again.
Ongoing card rewards program highlights. This card also has a unique rewards program using Citi ThankYou points:
3 ThankYou Points for every $1 you spend on purchases made online at retail and travel websites*
3 ThankYou Points for every $1 you spend on products and services purchased directly from AT&T*
1 point earned for every $1 you spend on other purchases*
10,000 Anniversary bonus points after you spend $10,000 in prior cardmembership year*
$95 annual fee.
Here are snippets from the fine print that I think are helpful:
Retail websites are websites that sell goods directly to the consumer through an online website and include department store websites, specialty store websites, warehouse store websites and boutique websites. Travel websites are websites that allow you to book travel and include online travel agencies, hotel websites and airline websites.
AT&T purchases are AT&T consumer products and/or services purchased directly from AT&T. AT&T consumer products and services must be purchased from www.att.com, www.telephones.att.com, AT&T owned stores or AT&T customer service centers. Purchases from independent wireless dealers or AT&T resellers are not eligible, unless they are for payment of AT&T service.
That means you can get 3 ThankYou points per $1 of purchases at Amazon.com, Costco.com, Apple.com, Walmart.com, Target.com, Expedia.com, and so on as well at your AT&T monthly service bill. Please see my Citi ThankYou Premier card review for details on redeeming your ThankYou points for at least $100 value per 10,000 points, but note that the special 25% bonus on travel redemption only apply if you also hold the ThankYou Premier card (you can redeem points earned from this card). Throw in the even-more special American Airlines flight awards from the Citi Prestige card and those 3X ThankYou categories start looking even better.
Bottom line. This is a niche card for folks that will soon be in the market for a new GSM phone, especially AT&T customers. (Non-AT&T customers can request a phone unlock before activating the phone on an AT&T plan, after which you'll have an unlocked GSM phone that can be used on another GSM carrier. Afterward, you'll still need to activate an AT&T plan for 15 days to get the credit.) If that's you, then the sign-up bonus is very generous – up to $650 towards a full-price, no-contract AT&T GSM phone. Looking at all the scenarios above, even in the worst case you'd be behind $50 after two years vs. buying new AT&T phone via 2-year contract. There is also the $95 annual fee. That's still a net benefit of over $500 and thus one of the top credit card sign-up bonuses currently available. The card then offers you ongoing bonus rewards on AT&T service as well as an interestingly broad category of "retail websites". However, that $95 annual fee is rather high unless you spend $10,000 annually on the card and get the 10,000 ThankYou point anniversary bonus to offset it.
"Disclaimer: This content is not provided or commissioned by the issuer. Opinions expressed here are author's alone, not those of the issuer, and have not been reviewed, approved or otherwise endorsed by the issuer. This site may be compensated through the issuer's Affiliate Program."