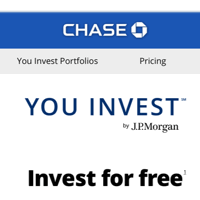 Chase just announced a new free stock trade program as part of a new online brokerage arm called You Invest. This means another megabank is moving more heavily into "relationship banking" where they hope you will keep your bank accounts, credit cards, brokerage accounts, and mortgage all at the same place. This is pretty significant as JP Morgan Chase is the largest US bank in terms of both market value and total customers (over 60 million).
According to CNBC, here are the offer details:
100 free trades per year for the first year. Launches next week. Free trades must be done online or via app. Anyone can open a You Invest Trade account with no minimum balance requirement. You can fund with a Chase account or another external bank account.
After the first year, 100 free trades per year ongoing for those with $15,000+ in combined balances (Premier level). Assuming this matches up with their Premier banking rules, which I believe it should, the $15,000 includes both bank deposits and investment balances.
Unlimited free trades per year ongoing for Private Banking clients. The article says this typically requires at least $100,000 in combined balances. However, their Private Banking page says the requirement is $250,000. I suspect that the $100,000 combined limit means that (upcoming) Chase Sapphire Banking clients will qualify for unlimited trades.
In January 2019, Chase plans to launch a You Invest Portfolios service which is more of a robo-advisor that helps manage your portfolio for a fee.
If you exceed the free trade allotment, additional trades are $2.95 each.
Combining with other Chase products. In terms of credit cards, Chase has done well with their Chase Sapphire Preferred and Chase Sapphire Reserve cards. However, they currently don't offer any bonus features if you have a bank or brokerage relationship. In terms of banking, Chase is also expected to launch a Sapphire Banking tier at the $100,000 total asset level. Chase also lets you qualify for their Premier Plus banking product via a Chase first mortgage with automatic payments.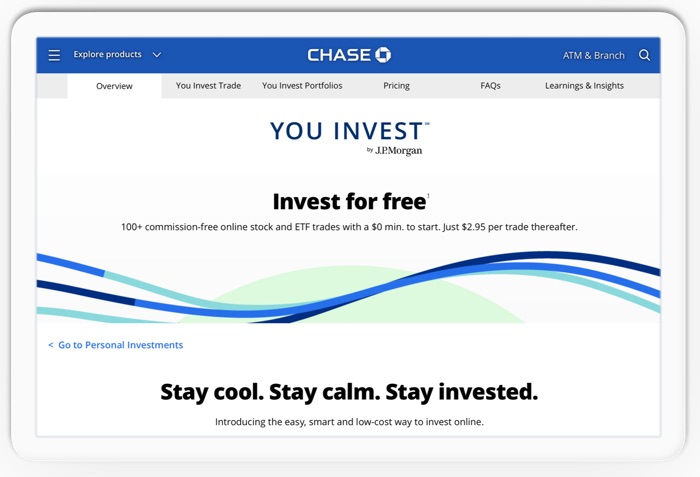 The competition. Bank of America currently offers 30 free trades per month at their Platinum Preferred Rewards tier ($50,000 in total bank/investment assets) and 100 free trades/month at their Platinum Honors tier ($100,000 in total bank/investment assets). Bank of America offers a 50% bonus (Platinum) and 75% bonus (Platinum Honors) on eligible BofA Rewards credit cards. I moved over some assets to Merrill Edge specifically to qualify for the free trades and this bonus. So it worked on me for BofA, and it might work for Chase if they sweeten the pot enough.
Wells Fargo does not currently offer any free trades to banking customers with big balances, closing their program to new sign-ups in 2013. Citibank has been offering more bonuses on both their banking and credit cards, for example with the new Citi ThankYou Premier card.
Vanguard has just rolled out its free ETF trade program covering nearly all ETFs that they don't think are too risky (leveraged and inverse ETFs). Fidelity also recently cut a lot of fees and minimums as well, some of which apply to their banking products. Vanguard, Fidelity, and Schwab all have commission-free trades on select low-cost index ETFs, on top of which they have been adding more banking features.
The Robinhood app offers unlimited free trades, free options trading, and a web interface now. A Chase executive threw some shade at them with the quote "There are customers out there who may not want to trust their credentials or their money to an app of the month". Hah!