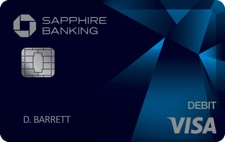 New bonus. Chase has a new $1,000 cash bonus offer if you upgrade to or open a new Sapphire Banking account. To qualify, you must transfer a total of $75,000 or more in new money or securities into eligible Chase checking, savings and/or investment accounts. You must open by 11/19/2019, complete the $75k transfer within 45 days of opening, and maintain that balance for at least 90 days from the date of funding. Chase will deposit the bonus into your new account within 10 business days after meeting the requirements.
Banks are trying to develop relationships with the "might be rich in the future" crowd instead of only courting the "really rich". Okay, the official term is "mass affluent". Sapphire Banking is a new brand extension of their popular Chase Sapphire line of credit cards, although you don't need to have one to open this account.
Sapphire Banking details. This is a "premium" checking account for those that can keep $75,000 in deposits or investments in qualifying Chase accounts. If you have less than $75k in assets, then a $25 monthly fee applies. Sapphire Banking perks include:
No ATM fees, including rebates on fees charged by non-Chase ATMs.
No fees for foreign exchange (ATM/debit), outgoing wire transfers, or stop payments.
No fees on the first four overdrafts within 12 months.
Free online stock and ETF trades with You Invest by JP Morgan.
Access to Sapphire lounges at concerts, sports and special events, early ticket sales and premium seats.
$0 monthly service fee on a linked Chase Total Business Checking account.
Moving over ETFs, mutual funds, and stocks. Since investments count towards the $75,000 requirement, if you have that much in ETFs, mutual funds, or stocks at another broker, you could perform an in-kind ACAT transfer over to their discount brokerage firm You Invest. All of your tax basis information should also move over seamlessly these days. Your old broker may charge you an outgoing ACAT fee about about $75, although you might ask You Invest if they will reimburse you for this fee. This would let you avoid parking $75,000 at Chase earning nearly zero interest (okay, it's 0.01% APY). Losing out on 2% interest on $75k works out to a rate of $125 interest per month ($1,500 per year).
Alternatively, you could move over some cash and then invest in something similar to cash. I'm not sure if You Invest will let you buy individual US Treasury bills or brokered CDs. If not, you might also consider ultra-short bond ETFs like MINT or Treasury Bill ETFs like BIL.
Bonus math. Let's say they want you to keep your $75k there for 90 days and to be safe you keep it there for another 10 business days until you see the bonus. Let's make that 120 total days to be conservative. Earning $1,000 over 120 days on a $75,000 balance is ~4% annualized. This is on top of any other return from your investments (T-Bill interest, etc).
This is about the highest bonus that I have seen on this account, which is good because you can only get it once per 12 month period. This includes the You Invest bonus, which would only give you $200 right now if you transferred in under $100,000. The bonus will be reported on a 1099-INT:
You can only participate in one Chase Private Client CheckingSM, Chase SapphireSM Checking or You InvestSM new money bonus in a 12 month period. Coupon is good for one time use and only one bonus per account. Bonus is considered interest and will be reported on IRS Form 1099-INT (or Form 1042-S, if applicable).
Bottom line. Chase Bank has a premium checking account tier called Sapphire Banking, targeted at the "mass affluent". There is a new account bonus of $1,000 for both new and existing Chase bank customers if you move over $75,000 in cash and/or investment assets.