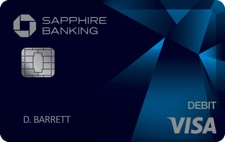 Update October 2018. Here is the 60,000 point application link. Open by 1/11/19. Within 45 calendar days, transfer a total of $75,000 or more in qualifying new money or securities to a combination of eligible checking, savings and/or investment accounts, and maintain that balance for at least 90 days. Within 45 business days of doing that, they will give you the 60,000 bonus points to your Chase Sapphire card with Ultimate Rewards.
Original post:
Chase Bank has a new premium checking account tier called Sapphire Banking. To qualify, you will need to maintain at least $75,000 in deposits or investments in qualifying Chase accounts. Otherwise, a $25 monthly fee applies. Sapphire Banking perks include:
No ATM fees, including rebates on fees charged by non-Chase ATMs.
No fees for foreign exchange (ATM/debit), outgoing wire transfers, or stop payments.
No fees on the first four overdrafts within 12 months.
Free online stock and ETF trades with You Invest by JP Morgan.
Access to Sapphire lounges at concerts, sports and special events, early ticket sales and premium seats
$0 monthly service fee on a linked Chase Total Business Checking account.
Everyone wants assets under management now, even the banks. Since investments count towards the $75,000 requirement, if you have that much in ETFs, mutual funds, or stocks at another broker, you could perform an in-kind ACAT transfer over to Chase You Invest. This would let you avoid parking $75,000 at Chase earning nearly zero interest. (2% interest on $75k is $1,500 per year.) I've previously moved over some Vanguard funds to Bank of America / Merrill Edge in order get their asset-based perks. Alternatively, you could move over some cash and then invest in US Treasury bills via their brokerage and earn some competitive interest on safe cash equivalents.
Here's the fine print:
There is a $25 Monthly Service Fee for Chase SapphireSM Checking OR $0 when you have an average beginning day balance of $75,000 or more in any combination of this account and linked qualifying deposits/investments. Qualifying personal deposits include this checking account and up to nine personal Chase checking accounts (excluding Chase Private Client CheckingSM ), personal Chase savings accounts (excluding Chase Private Client SavingsSM), Chase Liquid® Cards, CDs, certain Chase Retirement CDs, or certain Chase Retirement Money Market Accounts (balances in Chase Money Purchase Pension and Profit Sharing Plans do not qualify). Qualifying personal investments include prior end of month balances for investment and annuity products offered by JPMorgan Chase & Co. or its affiliates and agencies. Balances in certain retirement plan investment accounts, such as Money Purchase Pension and Profit Sharing Plans, do not qualify. Investment products and related services are only available in English.
New account bonus. According to this press release, "Sapphire cardholders will be able to earn 60,000 Ultimate Rewards points when they bring in $75,000 in new qualifying deposits and investments and open or upgrade to a Sapphire Banking account". The exact date is to be announce "shortly", but it will be sometime in October. This language suggests you'll need to also have either the Chase Sapphire Preferred or Chase Sapphire Reserve credit cards. Offer is available online and in-branch.
Now, 60,000 Ultimate Rewards points can be redeemed for $600 cash. With the Sapphire Preferred card, 60,000 UR points can be redeem for $750 in travel booked through Chase's Ultimate Rewards portal (think Expedia). With the Sapphire Reserve card, 60,000 UR points can be redeem for $900 in travel booked through Chase's Ultimate Rewards portal (think Expedia). You could also transfer those points to airline miles. That's a pretty good bonus, although I wonder if Chase will issue a 1099-INT and with what value amount.
Cost-benefit analysis. I don't know of Chase savings accounts with high interest rates. That means if you're bringing over cash, again you might be giving up bank interest of 2% or higher. $75,000 would earn $125 interest per month at 2% APR. If they require you to keep it there for 90 days and it's in an account that doesn't earn any interest, that's $375 in foregone interest already. Then you have to wait up to another 45 days to get the bonus, during which you'll need to keep the account open. If you take out all your money, you'll still need to pay the $25 monthly fee, which means another $50 to keep it open two more months. I don't like having to give up hundreds of dollars upfront in the hopes of an eventual bonus. I would consider moving over some index funds instead, especially if they agree to rebate the account transfer fee ($25 to $75), as many other brokers do. I'll wait until all the details come out.
Bottom line. Chase Bank has a new premium checking account tier called Sapphire Banking, targeted at the "mass affluent". There is a new account bonus of 60,000 Ultimate Rewards points for existing Sapphire credit cardholders if you move over $75,000 in cash and/or investment assets, but the full details have not yet been confirmed.