Our family keeps a full year of expenses put aside in cash reserves; it provides us with financial stability with the additional side benefits of lower stress and less concern about stock market gyrations. Emergency funds can actually have a better return on investment than what you see on your bank statement.
I've been slacking in terms of updates on this topic. While I still like to maximize my interest, there just hasn't been many new developments that make me want to jump from one bank from another. However, if you haven't optimized your cash recently, you may be stuck in a money market fund or megabank saving account paying 0.05% or less. You can definitely still do better than that! Here are what I consider the highlights of the best currently available interest rates.
Certificates of Deposit
If you have a large cushion, it's quite likely to just sit there for years or more. Therefore, you may wish to put some of it in longer-term investments where you can take the money out in a true emergency and paid an early withdrawal penalty.
Everbank's Yield Pledge Money Market and Interest Checking account both offer 1.10% APY guaranteed for the first 6 months for new accounts. Since it is fixed, this is essentially a 6-month CD with a higher rate than any other 6-month CD rate out there and with no early withdrawal penalty to worry about.
Ally Bank Raise Your Rate CDs have a rate bump feature; the 2-year term pays 1.05% APY and the 4-year term pays 1.30% APY (as of 11/1/13). You can change your rate after your account is opened — if their rate on this CD goes up, yours can bump up to match it (one interest rate increase with the 2 year term, two interest rate increases with the 4 year term).They also offer traditional Ally Bank High-Yield CDs with 3-year CDs at 1.20% APY and 5-year CDs at 1.60% APY (as of 11/1/13) currently. Early withdrawal penalty is only 60 days.
Discover Bank CDs are currently offering 3-year CDs at 1.25% APY, 5-year CDs at 1.65% APY, 7-year CDs at 1.80% APY, and a 10-year CD at 1.90% APY. Early withdrawal penalty varies from 6 months for the 3-year to 15 months on the 7 and 10-year CD.
PenFed Credit Union CDs are currently offering 3-year CDs at 1.60% APY, 5-Year CDs at 1.65% APY, and a 7-Year CD at 1.75% APY. Early withdrawal penalty varies from 6 months for the 3-year CD to 12 months on the 5 and 7-year CD.
Ally Bank's Flexible Certificates of Deposit

Let's focus on the Ally Bank certificates of deposit, where you can still access your money as long as you pay a early withdrawal penalty of 60 days interest – significantly less than at other banks. Why is this good?
Let's analyze a CD paying 1.54% APY (as of 4/8/13) with an early withdrawal penalty of the last 60 days of interest. Here's how your actual annualized interest rate would fluctuate given your holding period.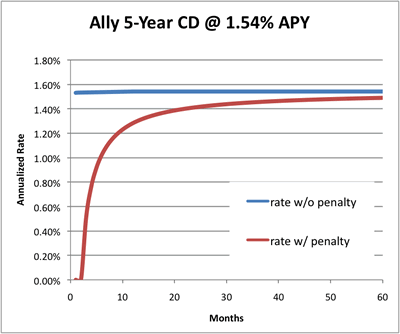 As you can see, if you hold it a year and withdraw, you are already at 1.28% APY – higher than other 12-month term CD that I can find. The rate on this CD keeps falling, but it's still one of the better options out there. I have older 5-year CDs paying 2-3% APY, but the current rate for new deposits is 1.54% APY for a 5-year CD.
Rewards Checking Accounts
Usually through smaller credit unions with limited membership areas, these checking accounts pay a higher interest rate if you jump through several hoops designed to force you to make it your primary account. However, if you make a mistake you'll forfeit virtually all your interest for that month, so it can be tricky. Rates also tend to drop quickly once word gets out of a juicy offer and the bank gets flooded with low-profit depositors. Your best bet is to find a local rewards checking account by using the filters over at DepositAccounts.com. I no longer have any money in any rewards checking account as the benefits are too low for the time and effort of jumping around, especially when I could just do some $500+ credit card bonuses for much more (non-taxable) easy money.
U.S. Savings Bonds
Series I Savings Bonds offer the security of government backing and rates that are linked to inflation. "I Bonds" bought right now will earn 1.76% total for the first six months, and then a variable rate based on ongoing inflation after that. You must hold them for a year, and if you redeem them within 5 years you lose the last 3-months of interest. While the rate is technically unknown, the net rate after a year is quite likely to be higher than most competitive CDs, and you get ongoing inflation protection and well as some other potentially beneficial tax features. More info here.
Series EE Savings Bonds are not indexed to inflation, but are also worth a second look these days as they have a guarantee that the value will double in value in 20 years, which equals a guaranteed return of 3.5% a year. However, if you don't hold for that long, you'll be stuck with the normal rate which is quite low (currently a sad 0.20% APY). Too much risk for an emergency fund for me, but perhaps as a long-term portfolio holding.
I've been very happy with my historical purchases of these bonds. For 2012, the annual purchase limit for electronic U.S. savings bonds bought at TreasuryDirect is now $10,000 per series, per person.
Online Savings Accounts and Day-to-day Banking Needs
I chose Ally Bank for my daily banking convenience and emergency fund needs. Why? First, their 5-year rocks as shown above and I have a lot money sitting in those. Second, Ally Interest Checking has a nice combo of features including no minimums, no fees, 24/7 phone and Live Chat customer service, ATM fee rebates everywhere (even at ripoff Las Vegas casinos), and free overdraft transfers from savings. This way, I can keep most of my money in their online savings account, which has remained competitive (currently at 0.84% APY). Check out my Ally Bank Checking account review for an in-depth rundown.
I've pretty much stopped jumping between online savings accounts. TIAA Direct was mildly interesting last year with an intro rate of 1.25%, but then they stopped taking new customers and lowered their rates back in line with the crowd at 0.92%. I still have open accounts with Discover Bank, American Express Savings, Capital One 360 (ING Direct), and FNBO Direct, but they've all fallen back into the pack with APYs around 0.80-0.90%.
While these are the best rates available, our household cash reserves consists only of Series I savings bonds, Ally 5-year CDs, Ally Checking accounts, and Ally Savings accounts. I've tried rewards checking accounts but the rates kept dropping, and I don't like being locked into a long-term CD with a big early withdrawal penalty even if the rate is slightly higher. You may feel differently.