Amazon.com aggressively varies their prices constantly based on a variety of factors, including matching lower prices from competitors. In addition, they often run limited-time deals like their current Lightning Deals page. But how special are those deals? For example, it may be advertised as "50% off list price", but what if the regular price is 40% off list price?
Here's a quick tip already known to many deal hunters – CamelCamelCamel.com tracks the historical prices for nearly every product in the huge Amazon catalog. You can also get free price alerts when a product hits a target price. A similar and less-cluttered, but also less-accurate website is Tracktor.com. All you need to do is either copy and paste the entire URL, or scroll down to find the product's ASIN (Amazon Standard Identification Number) under "Product Details". Browser plugins/extensions are also available.
For example, I've been keeping an eye on the Canon PowerShot SX260 now at $199 which is a relatively small camera with a hefty 20X optical zoom and 1080p HD video. By going to CamelCamelCamel, I can see a history of the price drops on this rapidly-depreciating, memory-keeping gadget: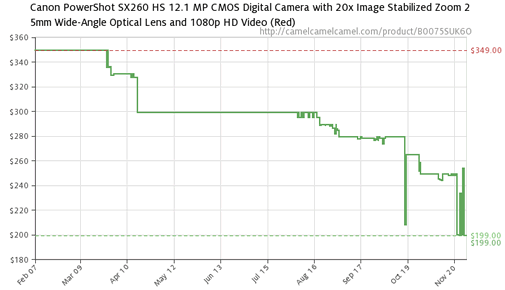 Here's the same chart from Tracktor.com. Note that it doesn't have the correct, current price of $199.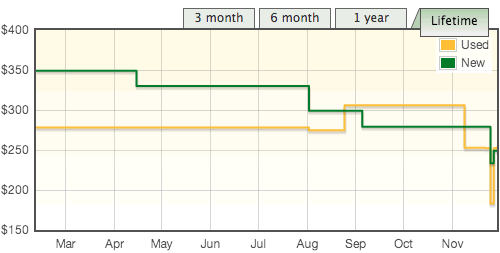 This camera only came out in February 2012, and is already down to $199 from $349. However, I can see the last price drop was relatively recent and perhaps not permanent. With this knowledge, it may be a good time to upgrade our last small camera which came out in January 2008 and only takes grainy video.