Inside this Wall Street Journal article about the recent phenomenon of brokers offering commission-free ETFs, portfolio manager Rick Ferri constructed some sample portfolios from the available offerings of Fidelity, Schwab, TD Ameritrade, and Vanguard.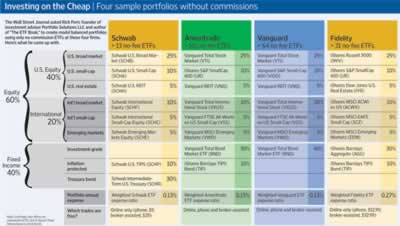 In this Bogleheads thread, Ferri clarifies that these portfolio are not necessarily complete sample portfolios, just what you might be able to build given what was available. Still, a potentially helpful exercise.
The portfolios I provided for today's Wall Street Journal article were created under a strict WSJ mandate. I was to take only the free trade ETFs available at each firm and form as similar as possible portfolios across all platforms. Since each platforms is different with many asset class choices being very limited, the portfolios contained only a very basic asset allocation. An ETF/index fund portfolio would hold more asset classes without the WSJ constraints.