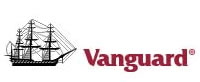 Vanguard sent out an announcement today that they are responding to recent moves by Fidelity/iShares and Schwab by offering their own lowered commission costs, the highlights are of which are:
Commission-free Vanguard ETF transactions. Vanguard brokerage clients may make commission-free transactions in Vanguard's entire line-up of 46 low-cost ETFs, which is the largest suite of ETFs available without commissions.

Ultra-low equity commissions. Most Vanguard brokerage clients will pay $7 or $2 to trade stocks and non-Vanguard ETFs®.

[…]Unlike competitors' commission schedules, the same commissions apply to both transactions conducted on Vanguard.com and those executed with the assistance of a Vanguard brokerage representative.
Added: For the brokerage account, a $20 account service fee is charged annually. The fee is waived for Voyager, Voyager Select, and Flagship members.
The details of new price structure are based on the amount of assets held at Vanguard. But everyone gets at least free Vanguard ETF trades and $7 trades for the first 25 per year ($20 after that).
First impressions? Sweeeeeet. 🙂 Looks like it might be time for some mutual fund to ETF conversions.