I've been catching up on my stack of old magazines, and in the process discovering a bunch of new websites. One appropriate site to mention is Bundle.com, which describes itself as the "first money comparison site that lets you see how people just like you spend and save money." Here's a promotional video from them which walks you through it:
For example, this is what the households in San Francisco, CA were spending their money on in December 2009: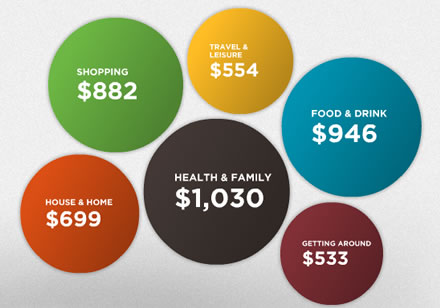 "House & Home" does not include mortgage or rent, but are things like utilities, home repair and improvements, and phone service. "Health & Home" includes insurance, child care, pet care, and charitable giving. Where does the data come from? Via their FAQ:
With a team of experienced statisticians and data junkies, we've compiled, tagged and sorted data from a (still-expanding) collection of sources. Our data comes from the U.S. government, from anonymous and aggregated spending transactions from Citi, and from third party data providers.
Aha, my sneaky Citibank card! This is exactly the kind of data I would think would be recorded and sold from aggregation sites like Mint.com. Now, is it just me, or is there no data available under the "Saving" tab?