The following is a guest post from Matt from NomadicMatt, who as you might guess has a passion for travel and doesn't like to stay in one place for too long. He wrote this while running around Spain! If you like what you see, I encourage you to check out his site for his travel blog and other travel tips.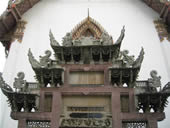 One thing that always irks me about my fellow countrymen is the huge perception that travel is expensive. With only two weeks away a year, I can see why a lot of people would want to splash out on an expensive holiday. There's nothing wrong with that. But a lot of people spend more money and get less value. They spend money on things the travel industry tells them they need but could find much cheaper. I've been traveling around the world for three years and whenever, I have friends come visit me in places, they are amazed at how little they spend compared to what they thought they would. I don't penny pinch but I don't spend money stupidly.
Take for example my trip to Thailand with a co-worker. Flights to Thailand can run anywhere between 800 and 1200 dollars for an economy class ticket. You can only hope to get on the lower end and sites like Momondo and Mobissimo are good at that. Additionally, you can check out my page on how to find cheap flights. My friend asked me how it would cost her for the two and half weeks we were going to be there. Should she bring 1,000 dollars? 1,500? Thinking about what I had planned for us, I told her $700 should be enough, unless she wanted to shop – then she should bring a few hundred more. She didn't believe me but I was right. Here's the break down:
Accommodation – Typical double bed room with shower, fan, or a/c. Nothing fancy but not super dirt, "I see a cockroach" cheap either. It cost us 20 dollars a night, which was split by two people.
Transportation – We took the local buses and trains around the country. They are very cheap with a train costing only a few hundred baht. (It's 35 baht to one dollar). Overall, we spent $50 dollars on transport.
Food – Having lived in Thailand, I know the best food there is on the streets, which is also the cheapest food. A meal is about 30 baht. We also ate a lot of seafood on the islands which is about 300 baht a meal. Throw in a few sushi and Italian dinners at about 800 baht each and in total for 2 1/2 weeks we spent about 3,500 baht on food, which is $100 dollars.
Alcohol – We like to party so this was a bit of a budget buster. We easily spent $100 USD on going to clubs and beach parties.
Tours – We took one tour through the national park that cost us 1,500 baht for two days. The guides spoke perfect English and new things about the area that amazing. When we went to the beach, we did a snorkel tour for 500 baht.
Other sights – We spent about $10 dollars on the palace and temples in Bangkok.
So for 18 days we spent about $560 dollars per person, or about $31 a day, without skimping on anything, eating the local food, taking a few tours, and doing nothing really cheap. For 18 days, that is not a lot of money.
Thailand is a cheap country so I'm always amazed when people walk away spending lots of money. A typical two week tour to Thailand runs about $1,000 dollars from Gap Adventures, which actually specializes in inexpensive tours. We spent less in longer. (Editor's note: Or you could stay an entire month for the same price of $1,000.)
Moreover, when most people travel to Thailand they stay at the big international hotels like the Marriott or the Sheraton, fly everywhere, and stay at luxury beach bungalows for 2,000 baht a night. When they eat, they eat out at fancy places. Relative to their home country, whether the U.S. or Europe, this may seem like a bargain (Wow! I just got a beach bungalow for 70 dollars a night!) but compared to how living locally is a third of the price, you aren't getting good value for your money.
If luxury is what you want, go for it but if you want more value for your money, live more like a local, take the local transportation, and stay in middle of the road places. You'll save a lot of money but also get to know the pulse of the location more. There's nothing wrong with spending money but I find not getting the most out of the money you spend a waste.
(Photo credit: NomadicMatt)