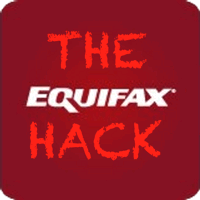 Updated. After the Equifax hack and many subsequent hacks that affected so many Americans, there is renewed interest in the various ways you can monitor and/or protect your credit report. Below is a summary of the options available.
Free credit reports. Everyone should take advantage of the free copy of their credit reports (Equifax, Experian, TransUnion) and their bank report (ChexSystems, TeleCheck) available every 12 months. I would also add LexisNexis to the ones I personally check. This free access is mandated by the government. Here again is my Big List of Free Consumer Reports.
Free credit monitoring. There are many offers nowadays for free credit scores and partial snapshots of your credit report. These are provided by private services, either in partnership with or as a subsidiary of the major credit bureaus. In addition, some offer credit monitoring, where they will e-mail or text you when a significant change occurs (new accounts, etc). I choose to take advantage of this, knowing it is in exchange for some ads. Here's a recipe for credit monitoring coverage across all three major bureaus:
Free credit locks. The credit bureaus now have a feature that allows you to instantly "lock" and "unlock" the credit report of a specific credit bureau and thus prevent access. These are nice because you can unlock it for a day or so when you need, but otherwise keep it locked. Again, if they are free, they are probably supported by ads and/or upgrades (which is fine by me, I just decline the occasional upsell and it stays free).
Free Fraud Alerts. If you are concerned that your personal information is compromised (you should be!), you can contact any one of the three major credit bureaus and ask for a "Fraud Alert" to be placed on your credit report. This supposedly lets all potential creditors know that you are at high risk and that they need to do extra identity verification. Be sure that they have your current contact information as they will call you every time someone tries to check your credit report.
(Update: I've had a Fraud Alert on my account for over 12 months now, and I have not seen any special precautions taken despite applying for multiple credit cards during that time. No verification phone calls, no snail mail letters, etc. I wouldn't depend on a Fraud Alert to stop any criminal activities.)
This is free of charge. It will expire automatically after 1 year but you can call in and renew by submitting a new request within 30 days of your current alert expiring. If you are a documented victim of identity theft, you can ask for an Extended Fraud Alert of up to 7 years. By law, you should only need to contact one of them, and they are supposed to contact the other two companies and thus have the Fraud Alert active on all three accounts. Taken from FTC.gov:
Credit Freezes. This is the most comprehensive measure to take. Once you initiate a credit freeze, it will stay on there permanently in most states (or at least 7 years in others). In order for a business to check your credit report, you must manually "unfreeze" your credit temporarily. As of 9/21/18, this should be free by law at all three credit bureaus. You must contact each credit bureau separately.
In addition, the same law requires that free credit freezes also be made available for children under 16 years old. (I would warn folks that you have to send in multiple sensitive personal documents like birth certificate and possibly notarized forms to verify your kids' identities. Makes sense but a lot of work.)
I decided to initiate a free 90-Day Fraud Alert to try it out (through Equifax since they should do the extra work).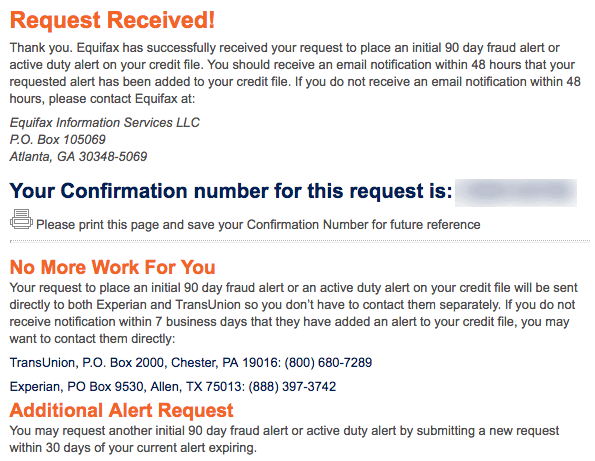 I already access my credit reports/ChexSystems/LexisNexis every 12 months, and I continuously monitor my own credit using the services listed above. Here's a sample free alert I got from CreditKarma: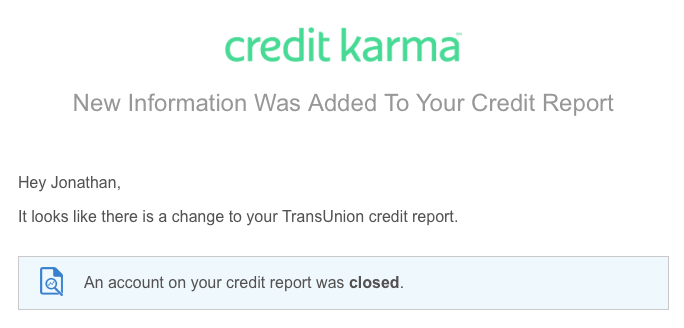 I then cross-referenced with a similar free credit monitoring alert from CreditSesame (TransUnion) that included more info like date and card issuer:

Bottom line. That's the menu; I would start at the top and pick what works for you. I tend to open a relatively high number of credit and bank accounts throughout the year, often for a time-senstive promotion, so I choose to decline the extra hassle and cost that comes with a credit freeze. I use the free monitoring services listed above instead to get an e-mail whenever a new credit check occurs or a new line of credit is reported. If you rarely get new accounts or simply feel otherwise, go more extreme.