If you have any sort of financial account, you've probably gotten one of these privacy forms in the mail: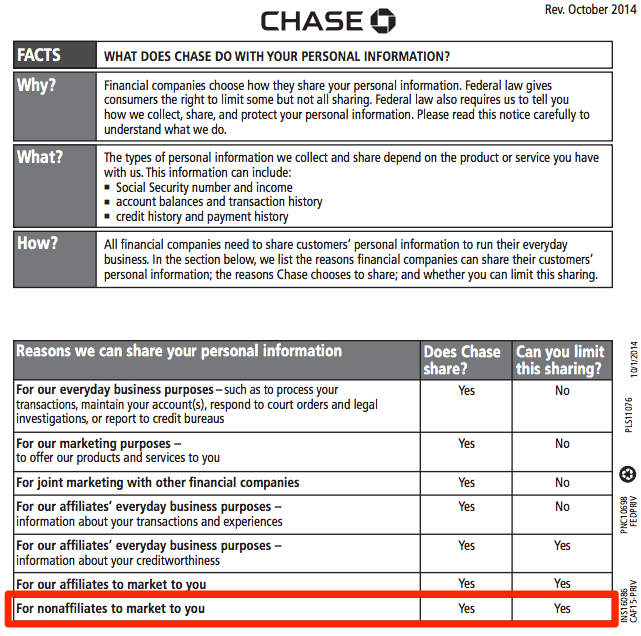 The information they are talking about can include:
Social Security number
How much you make (Income)
How much money you have (Balances)
What you buy (Transaction history)
How much you borrow (Credit and payment history)
The amount of sharing varies widely:
For our affiliates to market to you = We can share with companies who are under the same ownership or control.
For non-affiliates to market to you = We can sell your information to anyone! They don't even have to be financially-related companies.
These companies lobbied heavily to make these forms work on an Opt-Out basis instead of Opt-In. That means that unless you tell them not to, they can share however they want. The fact that you are busy with your own life benefits them by default.
It is just so tempting to not bother, but if you can commit a chunk of time, I've tried to collect the information for most of the largest financial institutions below. That way, you can knock them all out at once, and hopefully be done for a few years at least. You'll often need the bank account or credit card number to complete the form.
* If you are really short on time: At the time of writing here are the companies that share with non-affiliates: Ally, Capital One, Chase, Citibank (bank and credit cards), Discover, FIA Cardservices. Opt out of these first, if applicable.
Ally Financial
American Express
Bank of America
Barclaycard US
Online: n/a
Phone: 1-866-698-0236
Capital One
Online: n/a
Phone: 1-888-817-2970
Charles Schwab
Online: n/a
Phone: 877-812-1817
Chase
Citibank (Bank Accounts)
Online: n/a
Phone: 1-888-214-0017
Citi Credit Cards
Online: n/a
Phone: 1-877-640-3983
Discover Card
Online: n/a
Phone: 1-800-225-5202
FIA Cardservices
Online: n/a
Phone: 1-866-325-8310
US Bank
Online: usbank.com/privacy and tell us your preference on the "Exercise Your Privacy Choice" page.
Phone: 1-800-370-8580
Wells Fargo
Online: Log on to wellsfargo.com, and choose Change Privacy Preferences under the Account Services tab.
Phone: 1-888-528-8460