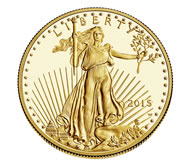 A reader recently sent me a set of articles by Scott Burns about a person he calls the Rational Gold Investor here and here. I've been a long-time reader of Scott Burns because while he has been a steady proponent of passive and low-cost investing, he isn't afraid to consider other investment alternatives.
Shayne McGuire manages gold investments for the Texas Teachers Retirement Fund, is the 18th largest pension fund in the world with over $120 billion in assets. He does not believe in gold as only a "armageddon" asset, but something that everyone should own a little of as part of a diversified portfolio.
Read the full article, but here are highlights from the interview:
Gold has never been more under-owned as an asset.
The supply of gold is difficult to increase.
Financial leverage in the world economy has never been higher.
Gold is an asset class that competes against equities and other asset classes, generally on a weaker footing becausen the long run (periods like 25 years) it cannot outperform stocks, bonds or real estate.
Gold tends to like bad news. If houses go down, it tends to go up. It makes you feel like you're betting against the home team.
A lot of peculiar people seem to like gold and that makes people not want to be like them.
In other words, there are legitimate reasons to own some old, even if you don't believe that the collapse of fiat money is imminent. At the same time, I think it is important to focus on the real numbers:
The pension fund invests less than 0.5% percent of their assets in gold, and this number has never been higher than 1%.
The value of all the gold in the world is about 0.6 percent of all financial assets. In 1980, the number was 2.5%.
In other words, the Texas Teachers Retirement Fund only keeps roughly a world market-cap weighting of gold, even if that amounts to roughly $70 million. Here that number is stated as 0.6%, while the previous source I quoted had it at 1.3%. Let's split the difference and call gold's world market-cap at roughly 1%.
If you had a $100,000 portfolio, 1% would work out to $1,000, which you could round off to a single 1 oz. gold American Eagle or Canadian Maple Leaf. They also make 1/2 oz, 1/4 oz, and 1/10 oz versions. I like the idea of holding physical gold here because you would have zero ongoing management fees (unlike an ETF), you maintain full control of the gold (away from any government), and you'd be more likely to hold it for the long-term (buy/sell spreads are big). Even if you had a million-dollar portfolio, a 1% allocation to gold would weigh less than a pound and fit inside your clothes or virtually any hiding place.
Buy a little bit of gold, put it somewhere secure, and rest easier knowing you have a slightly more diversified portfolio and a bit of insurance. At the same time, most of your money is still invested in productive assets like solid companies around the world or a rental property.