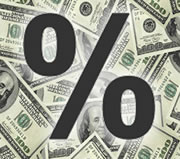 Interest rates are slowly waking up from their multi-year slumber. Don't let a megabank pay you 0.01% APY or less for your idle cash. Here is my monthly roundup of the best safe rates available, roughly sorted from shortest to longest maturities. I focus on rates that are nationally available to everyone (not restricted to certain geographic areas or specific groups). Rates checked as of 10/2/17.
High-yield savings accounts
While the huge brick-and-mortar banks rarely offer good yields, there are many online savings accounts offering competitive rates clustered around 1.0%-1.2% APY. Remember that with savings accounts, the interest rates can change at any time.
The Mega Money Market accounts of both Redneck Bank and All America Bank (they are affiliated) are paying 1.50% APY on balances up to $35,000. Note that amounts over $35,000 earn only 0.50% APY.
Other sample top rates: DollarSavingsDirect at 1.40% APY, CIT Bank at 1.35% APY up to $250k, Synchrony Bank at 1.30% APY, Goldman Bank at 1.20% APY, and UFB Direct at 1.41% APY ($5k min).
I've experienced the "bait-and-switch" of moving to a new bank only to have the rate lowered quickly afterward. Until the rate difference is huge, I'm sticking with a Ally Bank Savings + Checking combo due to their history of competitive rates (including CDs), 1-day interbank transfers, and a overall user experience. I also like the free overdraft transfers from savings that let's me keep my checking balance at a minimum. Ally Savings is at 1.20% APY.
Money market mutual funds + Ultra-short bond ETFs
If you like to keep cash in a brokerage account, you should know that money market and short-term Treasury rates have inched upwards. It may be worth the effort to move your money into a higher-yielding money market fund or ultrashort-term bond ETF.
The Vanguard Prime Money Market Fund currently pays an 1.12% SEC yield. The default sweep option is the Vanguard Federal Money Market Fund, which has an SEC yield of 0.98%. You can manually move the money over to Prime if you meet the $3,000 minimum investment.
Vanguard Ultra-Short-Term Bond Fund currently pays 1.46% SEC Yield ($3,000 min) and 1.57% SEC Yield ($50,000 min). The current average effective duration is 1.0 years.
The following bond ETFs are not FDIC-insured, but if you want to keep "standby money" in your brokerage account and have cheap/free trades, it may be worth a look. The PIMCO Enhanced Short Maturity Active Bond ETF (MINT) has a 1.58% SEC yield and the iShares Short Maturity Bond ETF (NEAR) has a 1.60% SEC yield while holding a portfolio of investment-grade bonds with an average duration of ~6 months. More info here.
Short-term guaranteed rates (1 year and under)
I am often asked what to do with a big wad of cash that you're waiting to deploy shortly (just sold your house, just sold your business, legal settlement, inheritance). My standard advice is to keep things simple. If not a savings account, then put it in a short-term CD under the FDIC limits until you have a plan.
Ally Bank No-Penalty 11-Month CD is paying 1.50% APY for $25,000+ balances and 1.25% APY for $5,000+ balances. The CIT Bank 11-Month No-Penalty CD is at 1.45% APY with only a $1,000 minimum deposit and no withdrawal penalty seven days or later after funds have been received. The lack of early withdrawal penalty means that your interest rate can never go down for 11 months, but you can always jump ship if rates rise.
Advancial Federal Credit Union has a 6-month CD at 1.63% APY ($50k min) and a 12-month CD at 1.78% APY ($50k min). If you don't otherwise qualify, you can join with a $5 fee to Connex Professional Network and maintaining $5 in a Share savings account. Via DepositAccounts.
US Savings Bonds
Series I Savings Bonds offer rates that are linked to inflation and backed by the US government. You must hold them for at least a year. There are annual purchase limits. If you redeem them within 5 years there is a penalty of the last 3 months of interest.
"I Bonds" bought between May and October 2017 will earn a 1.96% rate for the first six months, and then a variable rate based on ongoing inflation after that. While that next 6-month rate is currently unknown, at the very minimum the total yield after 12 months will around 1% with additional upside potential. More info here.
In mid-October, the CPI will be announced and you will have a short period where you will have a very close estimate of the rate for the next 12 months. I will have another post up at that time.
Prepaid Cards with Attached Savings Accounts
A small subset of prepaid debit cards have an "attached" FDIC-insured savings account with high interest rates. The negatives are that balances are capped, and there are many fees that you must be careful to avoid (lest they eat up your interest). The other catch is that these good features may be killed off without much notice. My NetSpend card now only has an eligible balance up to $1,000.
Insight Card is one of the best remaining cards with 5% APY on up to $5,000 as of this writing. Fees to avoid include the $1 per purchase fee, $2.50 for each ATM withdrawal, and the $3.95 inactivity fee if there is no activity within 90 days. If you can navigate it carefully (basically only use ACH transfers and keep up your activity regularly) you can still end up with more interest than other options. Earning 4% extra interest on $5,000 is $200 a year.
Rewards checking accounts
These unique checking accounts pay above-average interest rates, but with some risk. You have to jump through certain hoops, and if you make a mistake you won't earn any interest for that month. Rates can also drop quickly, leaving a "bait-and-switch" feeling. But the rates can be high while they last.
Northpointe Bank has Rewards Checking at 5% APY on up to $10k. The requirements are (1) 15 debit card purchases per month (in-person or online), (2) enrolling in e-statements, and (3) a monthly direct deposit or automatic withdrawal of $100 or more. ATM fees are rebated up to $10 per month.
Certificates of deposit (greater than 1 year)
You might have larger balances, either because you are using CDs instead of bonds or you simply want a large cash cushion. Buying finding a bank CD with a reasonable early withdrawal penalty, you can enjoy higher rates but maintain access in a true emergency. Alternatively, consider a custom CD ladder of different maturity lengths such that you have access to part of the ladder each year, but your blended interest rate is higher than a savings account.
Longer-term Instruments
I'd use these with caution, but I still track them to see the rest of the current yield curve.
Willing to lock up your money for 10+ years? You can buy certificates of deposit via the bond desks of Vanguard and Fidelity. These "brokered CDs" offer the same FDIC-insurance. As of this writing, Vanguard is showing a 10-year non-callable CD at 2.65% APY (Watch out for higher rates from callable CDs.) Unfortunately, current long-term CD rates do not rise much higher even as you extend beyond a 5-year maturity.
How about two decades!? Series EE Savings Bonds are not indexed to inflation, but they have a guarantee that the value will double in value in 20 years, which equals a guaranteed return of 3.5% a year. However, if you don't hold for that long, you'll be stuck with the normal rate which is quite low (currently a sad 0.10% rate). You could view as a huge early withdrawal penalty. You could also view it as long-term bond and thus a hedge against deflation, but only if you can hold on for 20 years. Too long for me.
All rates were checked as of 10/2/17.