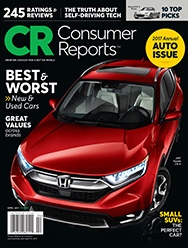 Consumer Reports has an updated for 2017 list of the 10 vehicles (including cars, SUVs, minivans, and pickup trucks) that reached 200,000+ miles according to their big annual car survey. Here's the list based on the total number of responses (ignoring model years), with the Toyota Camry the top model.
Toyota Camry
Honda Accord
Toyota Prius
Honda CR-V
Toyota Sienna
Honda Civic
Toyota Corolla
Toyota 4Runner
Toyota Highlander
Ford F-150
There are a couple of wrinkles to consider:
This is a raw list based on the number of responses, but the Toyota Camry is already the best-selling model in the US. It would be interesting if they adjusted for the overall number of vehicles sold. You might then find some hidden gems. What if Mitsubishi made a really solid car but nobody noticed since there are so few of them? Also, any new model names like the Buick Encore will not have been around long enough to get to 200,000 miles.
The demographics or other characteristics of a Toyota Camry or Honda Civic owner may be different. Maybe Toyota and Honda owners tend to be more frugal, more diligent at regular maintenance, and not buy new cars every 3-7 years. That would be a big factor in getting to 200,000 miles as a new car. Perhaps the more often a car is sold, the less likely it will reach 200,000 miles. If you only plan on owning a car for a couple years, why spend a lot of energy taking care of it?
As noted in the article, a specific car model can go through period of higher or lower reliability, especially when a new generation is released. A specific Toyota or Honda model year may have a known issue with transmission, etc.
I've been a participant in the online reliability website TrueDelta for a while. It uses crowd-sourced data, but it often needs additional data points to be accurate enough to be useful. I recommend contributing if you find it useful. To their credit, they do try to make the periodic reporting as quick and easy as possible.