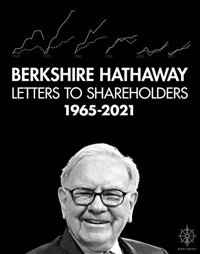 Berkshire Hathaway (BRK) released its 2022 Letter to Shareholders, which is how Warren Buffett updates his fellow shareholders annually on the status of the business. Direct ownership of Berkshire Hathaway shares was one of my first "self-directed" investments (above index fund holdings) for both educational and profit purposes. The reason that people like me always mention Warren Buffett is not because he is smart, but because he is an excellent teacher that cuts through the fog of complex subjects. He writes this letter with his sister in mind. This year's letter is only 9 pages long, so I recommend reading it for yourself.
This year, the letter covered a lot of familiar ground. That's the thing about investing and personal finance though, most of it is just sticking with a few simple yet critical ideas for years and years. Build the habit to act honorably and rationally every day, and keep avoiding risks where you can lose everything. Here are my personal highlights.
Berkshire shareholders are different.
We believe Berkshire's individual holders largely to be of the once-a-saver, always-a-saver variety. Though these people live well, they eventually dispense most of their funds to philanthropic organizations. These, in turn, redistribute the funds by expenditures intended to improve the lives of a great many people who are unrelated to the original benefactor. Sometimes, the results have been spectacular.
Berkshire owns both businesses in their entirety and pieces through publicly-traded stock shares. They take the long-term view with both:
Our goal in both forms of ownership is to make meaningful investments in businesses with both long-lasting favorable economic characteristics and trustworthy managers. Please note particularly that we own publicly-traded stocks based on our expectations about their long-term business performance, not because we view them as vehicles for adroit purchases and sales. That point is crucial: Charlie and I are not stock-pickers; we are business-pickers.
As investors, don't cut the flowers and water the weeds. Hold onto those flowers. This applies to index fund investing as well. If you buy the entire haystack, you are guaranteed to own the needles (flowers).
The lesson for investors: The weeds wither away in significance as the flowers bloom. Over time, it takes just a few winners to work wonders. And, yes, it helps to start early and live into your 90s as well.
The pillars: continuous saving, the power of compounding, avoiding catastrophic failures, and the American Tailwind.
Thus began our journey to 2023, a bumpy road involving a combination of continuous savings by our owners (that is, by their retaining earnings), the power of compounding, our avoidance of major mistakes and – most important of all – the American Tailwind. America would have done fine without Berkshire. The reverse is not true.
More on the importance of risk management and having skin in the game. What do you do? "I own a boatload of cash and a wide array of businesses." Sounds perfect. 😁
As for the future, Berkshire will always hold a boatload of cash and U.S. Treasury bills along with a wide array of businesses. We will also avoid behavior that could result in any uncomfortable cash needs at inconvenient times, including financial panics and unprecedented insurance losses. Our CEO will always be the Chief Risk Officer – a task it is irresponsible to delegate. Additionally, our future CEOs will have a significant part of their net worth in Berkshire shares, bought with their own money.
Don't count on Berkshire being broken apart or starting to distribute dividends anytime soon:
And yes, our shareholders will continue to save and prosper by retaining earnings.

At Berkshire, there will be no finish line.
The letter ends with a bunch of wise quotes from Charlie Munger. Here's just one.
There is no such thing as a 100% sure thing when investing. Thus, the use of leverage is dangerous. A string of wonderful numbers times zero will always equal zero. Don't count on getting rich twice.
Past shareholder letter notes.
The 2023 annual shareholder meeting will be in Omaha on May 5th and 6th. CNBC will most likely livestream it again.