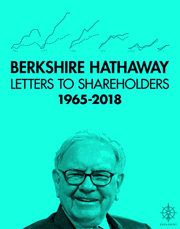 Berkshire Hathaway (BRK) has released its 2019 Letter to Shareholders. I highly recommend sitting down and reading the entire thing straight from the source. It's only 13 pages long this year and written in a straightforward and approachable manner. Here are my notes with quoted excerpts. In my opinion, the overall theme of the letter was "Here's why Berkshire will be fine without Warren Buffett".
Buffett reviewed the various unique points of BRK and why he make it that way. Allowing their wholly-owned companies to retain earnings lets them grow exponentially like compound interest. Each company is run by their own management with great freedom. Their insurance side has both exceptional underwriting skill and effective investment of the float. If you can't own an entire company, you can own part of it through common stocks. The shares of companies that BRK owns have high returns on net tangible equity capital (solidly profitable) and do not hold a lot of debt.
In other words, Berkshire is (still) built to survive and thrive beyond the next recession. None of these things are dependent on Buffett or Munger.
"Your company is 100% prepared for our departure." If you didn't read between the lines, Buffett straight up says it.
The two of us base our optimism upon five factors. First, Berkshire's assets are deployed in an extraordinary variety of wholly or partly-owned businesses that, averaged out, earn attractive returns on the capital they use. Second, Berkshire's positioning of its "controlled" businesses within a single entity endows it with some important and enduring economic advantages. Third, Berkshire's financial affairs will unfailingly be managed in a manner allowing the company to withstand external shocks of an extreme nature. Fourth, we possess skilled and devoted top managers for whom running Berkshire is far more than simply having a high-paying and/or prestigious job. Finally, Berkshire's directors – your guardians – are constantly focused on both the welfare of owners and the nurturing of a culture that is rare among giant corporations. (The value of this culture is explored in Margin of Trust, a new book by Larry Cunningham and Stephanie Cuba that will be available at our annual meeting.)
I remember a quip by Charlie Munger on this topic that went like this: "Do you really think Warren will mess this up?"
Stocks and interest rates. BRK owns a lot of stocks and zero 30-year Treasury bonds at 2%. I look to their actions as well as reading their words:
Forecasting interest rates has never been our game, and Charlie and I have no idea what rates will average over the next year, or ten or thirty years. Our perhaps jaundiced view is that the pundits who opine on these subjects reveal, by that very behavior, far more about themselves than they reveal about the future.

What we can say is that if something close to current rates should prevail over the coming decades and if corporate tax rates also remain near the low level businesses now enjoy, it is almost certain that equities will over time perform far better than long-term, fixed-rate debt instruments.
The catch. Individual investors should read this carefully:
Anything can happen to stock prices tomorrow. Occasionally, there will be major drops in the market, perhaps of 50% magnitude or even greater. But the combination of The American Tailwind, about which I wrote last year, and the compounding wonders described by Mr. Smith, will make equities the much better long-term choice for the individual who does not use borrowed money and who can control his or her emotions. Others? Beware!
Personally, I do agree that Buffett has spent a lot of time on the "estate plan" for Berkshire Hathaway. I applaud that, as it is another example of his rationality. People usually hate thinking about their death and put off making wills, etc. He has done everything in his power to keep the Berkshire culture going for decades to come. As a shareholder myself, I really do hope that he is successful. I don't plan to sell any shares upon his death. However, I'm comfortable that most of my money is in index funds as any company culture can erode over time.
Past shareholder letters.
Berkshire's 2020 annual meeting will take place on Saturday, May 2nd. Last year, I again enjoyed listening to it in the car via the Yahoo Podcast. Here are the many ways you can access Berkshire Hathaway Shareholder Meeting Full Videos, Transcripts, and Podcasts.