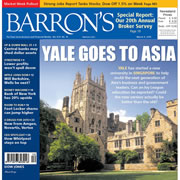 Weekly business newspaper Barron's just released their 2015 annual broker survey rankings. Here's a snippet that helps explain their perspective and readership (emphasis mine):
To pinpoint 2015's top brokers, we analyzed not just their security, mobility, and social media features but the depth of their investment tools and their trading capabilities. Our primary consideration in judging these 18 firms is how they work for our readers, who are high-net-worth active investors. Customization, especially of reports, is a particular focus, as is the ability to move smoothly from idea generation to a trade ticket.
Their overall winner was again Interactive Brokers, a broker designed for more advanced traders with an extensive feature set, low commissions, and low margin rates. Note that they have a minimum opening balance of $10,000 ($3,000 if age 25 and younger) and a minimum monthly fee of $10 even if you don't trade at all (waived at $100,000+ equity balance). If you rack up those trades every month, this is the place to be.
Barron's defines an "occasional trader" as someone who averages 6 stock trades and 2 options trade per month. A "frequent trader" makes 100 stocks trades a month, 100 option trades a month, and carries $30,000 in margin debt. I am not active enough to even be called an "occasional trader", but I still like having a clean user interface, relatively low commissions, no maintenance fees, and helpful customer service when I need it. Thankfully, Barron's again ranked the brokers for these folks as well:
Top 5 Brokers for Novice Investors
TD Ameritrade. Performed well in customer service & education, research tools, and mobile offerings. Improved desktop site and mobile apps integration. Free real-time quotes from NYSE, AMEX, and NASDAQ Level 1 and 2.
E-Trade
Capital One Sharebuilder
Top 5 Brokers for Long-Term Investing
TD Ameritrade. The only broker to provide a wide range of commission-free ETFs from various providers based on popularity instead of in-house ETFs or paid placement).
E-Trade
Top 5 Brokers for In-Person Service
Scottrade. Scottrade has over 500 physical branches across US, so that when you call you reach a human in that local branch. Free in-person educational seminars are offered as well.
TD Ameritrade
I would note that due to their active trader readership, most of Barron's rankings don't really consider the benefits of any commission-free ETFs that a broker like Fidelity or TD Ameritrade might offer. Perhaps their "long-term investing" ranking takes this factor into account. Vanguard's brokerage arm is not included in the review. Also not included are automated brokers like Betterment or Wealthfront and other specialized brokers like Motif Investing.
Newcomer Robinhood and their free trades were mentioned in passing, but basically dismissed with skeptical quotes like "There's no such thing as a free lunch […] They will make their money one way or another" and "A "free" trade could cost quite a bit if the broker is relying on payment for order flow rather than trying to create price improvement opportunities." I still think Robinhood will eventually be bought out by one of these big brokers for their mobile-first design and young client base.