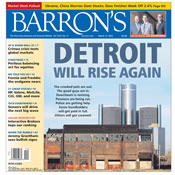 Weekly business newspaper Barron's just released their 2014 annual broker survey rankings. Here's a snippet about their criteria (emphasis mine):
Our evaluation criteria focus on the needs of wealthy, active traders. We looked at eight categories of service, examining what can be traded online, how the tools work together across platforms, the design and capabilities of mobile platforms, educational offerings and customer service, as well as the nuts and bolts of placing and executing a trade. We closely scrutinized the various tools available for finding appropriate trades, including scanners and charts. When examining costs, we considered stock and options commissions as well as platform or maintenance fees, margin debt, and charges for transferring an account out.
Their overall winner was again Interactive Brokers, a broker designed for highly-active traders with an extensive feature set, low commissions, and low margin rates. However, IB also has a minimum opening balance of $10,000, a minimum monthly fee of $10 even if you don't trade at all, and customer service that does not cater to casual investors. They recently starting waiving the $10 minimum monthly fee if your account value is at least $100,000.
I am not an active trader, but I still like having real-time quotes, a clean user interface, and helpful customer service when I need it. Thankfully, Barron's again ranked the brokers for the rest of us:
Top 5 Brokers for Novice Investors
TD Ameritrade. Performed well in customer service & education, research tools, and mobile offerings. Improved desktop site and mobile apps integration. Free real-time quotes from NYSE, AMEX, and NASDAQ Level 1 and 2.
Capital One Sharebuilder
Top 5 Brokers for Long-Term Investing
TD Ameritrade. The only broker to provide a wide range of commission-free ETFs from various providers (not just their own in-house ETFs).
Top 5 Brokers for In-Person Service
Scottrade. Scottrade has over 500 physical branches across US, so that when you call you reach a human in that local branch. Free in-person educational seminars are offered as well.
TD Ameritrade
Reading through the entire article, most of the brokers made a few incremental changes (better mobile app, new options tools) but nothing game-changing. So it shouldn't come as a surprise that for the three niche rankings above, the Top 5 ended up exactly the same as the 2013 rankings. Again, Vanguard's brokerage declined to participate and thus was not eligible for the rankings.