Here is Part 2 of my series on baby gear, organized in the order of Amazon's Baby Registry. Here is Part 1. The entire series can be found with the Baby Gear tag here. This week is car seats, strollers, and feeding pillows.

Car Seats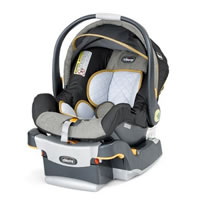 I'll start with car seats, as we decided that first before picking a stroller. We chose the Chicco Keyfit 30 Infant Car Seat with Base (plus an extra base for the other car). It was #1 rated by Consumer Reports, well-rated by various other sources including the popular Baby Bargains book, and was recommended by all our friends who had it. You don't want to go used with a car seat.
After owning it through two different infants, we found it is easy to use, relatively lightweight, durable, easy to take apart, and easy to clean. It's rated up to 30 lbs, which is more than you'll probably need. We like that if the baby is sleeping, we can just take the entire seat in and out of the car without waking her up. Our kid often napped in the car seat at home. This also meant we only needed one car seat (and two bases) for two cars.
I haven't used any other infant car seat so I am unable to provide a good comparison test, but we really have no complaints. A good friend generously bought us ours, and I bought my sister one. The only catch is that it is not the cheapest option. I have seen the Britax B-Safe and it looks similar and is slightly cheaper.
After our first kiddo outgrew the car seat, we bought a pair of Britax Marathon G4 Convertible car seats. Britax seemed to have a good safety history and the chair itself felt very over-engineered and beefy. Honestly, I don't know the differences between the 26 different Britax models. Ours was on sale. The basic model runs $130 and seems fine to me, it lacks a few conveniences and maybe some comfort padding. The new Chicco Nextfit convertible seat is also highly rated but is closer to $300.
Verdict: Buy new. We highly recommend the Chicco Keyfit 30 and have nothing negative to say about it. It currently costs ~$190 but will last through two kids and probably another if we have temporary insanity and try for a third kid. When you outgrow that, we like our beefy Britax convertible seats. Just keep moving up the price range (starts at ~$125) until your budget protests.
Strollers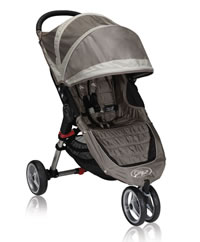 Buying a stroller is like buying a car. There is basic transportation, and then there a million luxury and fashion features for the "outdoorsy" and the "hip urban" set. Strollers can also be bought used in barely-used condition at a significant discount.
Since we picked the Chicco Keyfit, our first thought was to buy the Chicco Cortina, which is basically a regular toddler stroller that can also hold your car seat. Sounds smart right? One stroller, two uses. But at 26 lbs for just the stroller, it was heavy. We ended up just buying a lightweight 14 lb universal frame stroller for $50 which just has one purpose: to hold an infant car seat. 12 lbs difference is a big deal when it comes to both pushing and repeatedly lugging it in and out of a car. If you want your seat to "click in" rather than use a strap, then you have to buy the Chicco-branded one for $100.
For strollers after that, my frugal advice is to find a used baby gear shop and try out their strollers in person. There is so much variation, you just never know until you actually try it. Plus they cost half as much as new. The height could be wrong, you might kick the back wheels when you push, your kid might be too big/small/wide/narrow, etc. The main factors for me are (1) is it lightweight, (2) is the kid comfortable, and (3) are the wheels compatible with the terrain you'll be one. We often take walks on uneven, thick grass so small wheels get stuck very easily. We have a small, lightweight "mall" stroller (Combi Cosmo) and a heavier "SUV" stroller (Baby Jogger City Mini). I'm not absolutely in love with either one, but they are good enough. The City Mini is fashionable yet has sturdy construction. I think the one-handed collapse feature is rather overrated.
Verdict: If you buy a removable infant car seat, just buy a lightweight stroller frame starting at $50 new (or find one used for half). You'll be good for the first year or so. Always try out a stroller in person. If putting on a baby registry, at least test the usability (fold up, put in car, take out of car, unfold, several times in a row). If buying yourself, just wait until the kid is old enough and buy one used. A good stroller can cost safely under $200 and last a long time.
Feeding Pillows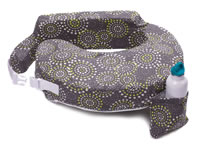 When we had our first baby, I think Boppys were trendy or something because we got a few of them as gifts. We used both and liked the Boppy but preferred the My Brest Friend feeding pillow even though we'd never heard of it before (still not a fan of the name). I just noticed that the Brest Friend is the #1 best-selling feeding pillow on Amazon right now, so I guess we were not alone. Allows a comfortable position both for breastfeeding directly and bottle-feeding.
Verdict: We preferred the My Brest Friend over the Boppy. Used daily for feeding, totally worth it at ~$40 if you breastfeed. If formula-fed, it is nice but not essential as you have other options like a bed, chair, or car seat.