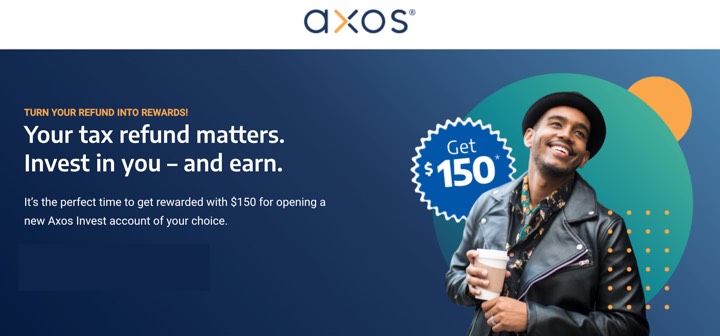 Axos is another financial app that combines banking, investing, and borrowing services. Right now, they are offering a $150 bonus when you open a new Axos Invest brokerage account, fund it with $1,000, and keep it there for 90 days. You can choose Self-Directed Trading or their Managed Portfolio (robo-advisor) option, but the Self-Directed option has no advisory fees and offers $0 stock and ETF trades. Options cost $1 per contract.
Transfer fee reimbursement. If you move $50,000+ of assets over, they will reimburse transfer fees up to $300.

Relatively straightforward promo with a solid return on cash locked up. Keep in mind that if you buy something and want to transfer it out later, you may have to pay an $75 outgoing transfer fee (see their fee schedule). If I want to avoid that, I usually either stay in cash, plan an exit to another broker that will reimburse that fee, or buy something that I plan on selling and just withdrawing cash without fees.
* Valid for one new Axos Invest accounts per person, and only open to U.S. residents. Current and former Axos Invest account holders who closed accounts within the past 90 days are not eligible. This offer is non-transferrable. Other restrictions may apply. This offer is not valid anywhere Axos Invest is not authorized to offer services. An Axos Invest Managed Portfolio or Self-Directed Trading application must be submitted before 11:59 p.m. PT on 6/30/2022 to qualify. You must open each new account and have qualifying direct deposit(s) that total at least $1,000.00 within 45 days during the first three (3) calendar months your account is open, including the month in which your account was opened. Direct deposit funds must be new to bank from a third-party source (not originated from another Axos Bank brand account) to receive bonus credit. All eligible awards will be delivered to your account or email address within 30 days following the 90-day waiting period. Terms and conditions subject to change without notice. New account holders are limited to opening one taxable Managed Portfolio or one taxable Self-Directed Trading account. The eligible award will be delivered into the first account opened. Subsequent market fluctuations and/or trading losses do not impact qualification.