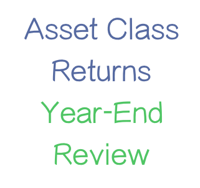 Happy New Year! As the markets have closed for the last time in 2017, it's time for a year-end review. While I do rebalance my portfolio quarterly, I only dig into performance numbers once a year. That's a big change from a decade ago, when I would calculate my net worth down to the dollar multiple times a week. Here are the trailing 1-year total returns for select asset classes as benchmarked by passive mutual funds and ETFs. Data via Morningstar as of 12/31/17.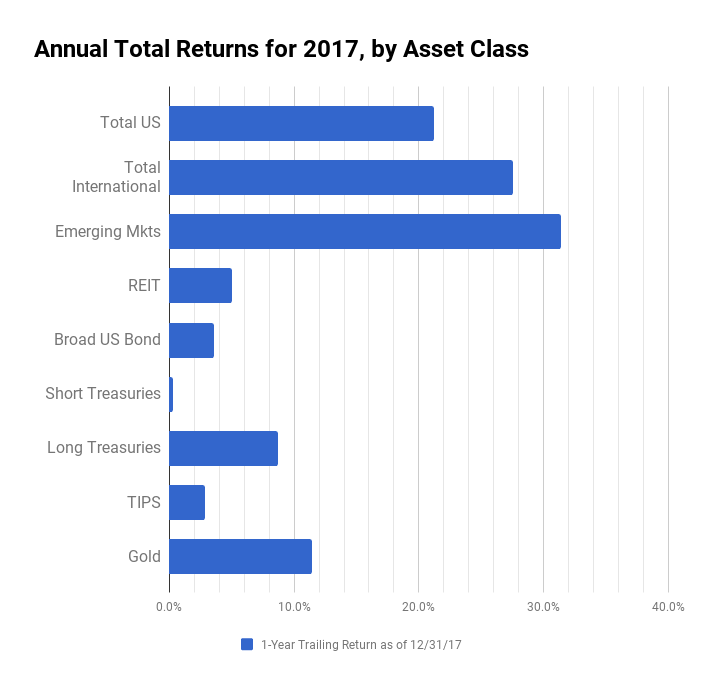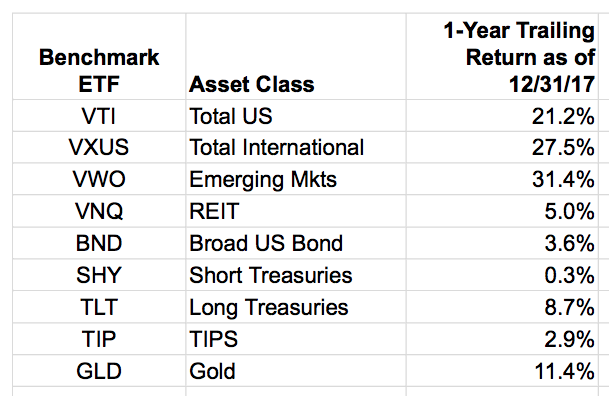 Commentary. Most people who owned a diversified portfolio in 2017 had another year of solid returns. I hope you were on the ride. One of my "keep-it-simple" recommendations, the Vanguard Target Retirement 2045 fund (roughly 90% diversified stocks and 10% bonds) was up about 21.4% in 2017. For the curious, you can compare with 2016 asset class returns.
Our personal portfolio, a more conservative mix of 70% stocks/30% bonds as we are close to living off it, was up about 15.1% in 2017. We are at the point where portfolio gains significantly outpaced our employee income this year.
As happens each year, many things happened that I did not predict. I thought 2016 was a pretty good year given higher valuations, but my 2017 returns were twice as high. I certainly did know that the S&P 500 was going to give a positive return every single month of 2017. (This was the first year that has happened, ever.) In addition, stock market volatility was near all-time lows at the same time the threat of nuclear war is probably the highest in my lifetime. Interesting times.
Instead, I have faith that a diversified basket of productive assets (stocks, private businesses, real estate, farmland) has the best probability to be worth more over the long run. In the short run, I will try to spend no more than a modest withdrawal rate of 3% a year, mostly dividends and interest that are automatically distributed. That way, my portfolio will still have the ability to rebound even after an extreme drop in value.
The goal remains to spend my time in a manner that is aligned with my values. I am thankful for another year of physical health, the opportunity to do work that I enjoy, and quality time with family and friends.