Although it may feel like the markets are just bouncing around like crazy this year, Vanguard shares some data that shows that the markets are actually performing in line with history.
A common definition of volatile day is one where the market index moves at least 1% up or down. For example, yesterday all three major market indexes dropped between 1.3 and 1.6%, and it was considered a "pounding". But, as you can see in the chart below, historically about a quarter of all days are volatile.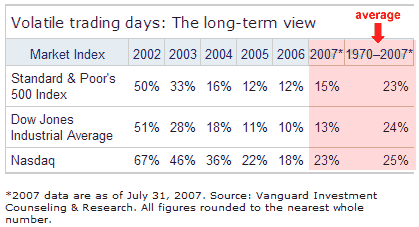 In the past few years, we've been spoiled by a period of relatively low volatility, and now we're simply reverting back towards the mean. It's all part of owning stocks, and I don't see any reason to make any changes if you already have a long-term plan.