Next up is a model portfolio by actor and personal finance columnist Ben Stein. I have read and reviewed two books he wrote with Phil DeMuth – Yes, You Can Still Retire Comfortably! and Yes, You Can Time The Market!. I actually ran across this information last week while waiting at a Barnes and Noble for my companions to finish shopping. I wrote down that it was in Forbes magazine, but I found the article online under Fortune. Either way, here it is:
Ben Stein Model Portfolio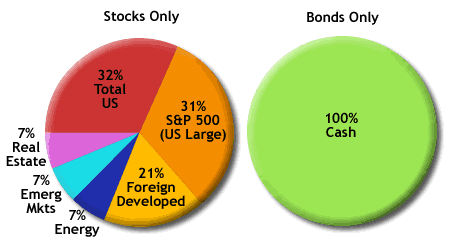 Asset Allocation For 80% Stocks/20% Bonds (with ETF examples)
25% Total US Stock Market (VTI, IYY)
25% S&P 500 Index (IVV, SPY)
15% Foreign Developed Equity (EFA, VEA)
5% Emerging Markets (VWO, EEM)
5% Real Estate (VNQ, ICF)
20% Cash
Commentary
On the equity side, I guess he's leaning towards only having about 15% of the domestic equity portion being Small/Mid Cap stocks, since about 70% of the Total US Stock Market index is made up of the S&P 500 anyways. His exposure to Real Estate is very small, especially compared to the Swensen portfolio we just looked at. He does add a specific allocation to Energy sector stocks to the mix, which you don't always see.
On the fixed-income side, Stein doesn't recommend any type of bond, corporate or not. He thinks long-term bonds are too risky, while short-term bonds don't offer enough yield to warrant not just holding cash instead. I'm not sure if this is solely due to the current flat interest rate curve. This may also be because he seems to take the view that your emergency fund cash should be included in your asset allocation. (I like to keep it separate.)
See here for other model portfolios from respected sources, part of my incomplete Rough Guide to Investing.