This model portfolio is taken from Unconventional Success by David Swensen. As mentioned before, Swensen is not a personal financial advisor, but is a respected institutional money manager who currently runs the Yale Endowment. In his book for individual investors, he writes that there are only a limited number of core asset classes in which one should invest in. Although he avoids giving specific asset allocation guidance, he does provide an "outline of a well-diversified, equity-oriented portfolio", which is shown below.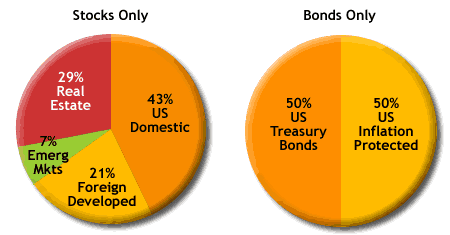 (Hurrah, I found my software disks so I can make pretty pie charts again!)
Asset Allocation For 70% Stocks/30% Bonds (with ETF examples)
30% Domestic Equity (VTI, IYY)
15% Foreign Developed Equity (EFA, VEA)
5% Emerging Markets (VWO, EEM)
20% Real Estate (VNQ, ICF)
15% U.S. Treasury Bonds (SHY, IEF)
15% Inflation-Protected Securities (TIP)
Commentary
There is a healthy portion devoted to real estate in the portfolio. The common way to track this asset class with REITs, which are considered a domestic stock. Instead of taking up less than 5% of the US stock market by capitalization, it is now taking up more than 40% of the domestic equity portion. I'm not really sure why there is so much, although he does write that if you own your home or other real estate, you may want to reduce your REIT exposure.
In addition, corporate and mortgage-backed bonds are left out, following his opinion that they aren't the most desirable asset classes for individual portfolios due to added call risk and credit risk. (If you've been keeping up with the markets recently, it seems he may have been on to something here.)
As with all the model portfolios, the idea here isn't just to follow any of them blindly. I do think it helps to see where different experts have similar components to their model portfolios, and where they differ. I also like breaking it down this way into pie charts of stocks-only and bonds-only in order to visualize them better.
See here for other model portfolios from respected sources, part of my incomplete Rough Guide to Investing.