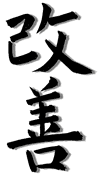 Kaizen is a a Japanese philosophy that focuses on continuous, gradual improvements in all areas of life. A popular example is that of Toyota Motors, where any worker can stop the entire factory line if they see an abnormality and worker suggestions are welcomed and regularly implemented. The role of kaizen in Toyota's success is discussed in detail within this New Yorker article "Open Secret of Success":
…Toyota's approach: defining innovation as an incremental process, in which the goal is not to make huge, sudden leaps but, rather, to make things better on a daily basis. […] Most of these ideas are small—making parts on a shelf easier to reach, say—and not all of them work. But cumulatively, every day, Toyota knows a little more, and does things a little better, than it did the day before.
The parallels to personal finance are relatively obvious but I think it is still easy to underestimate the power of such small, continuous, improvements.
Starting a New Business
Many of us may have ideas about starting up a new business (side or full-time), or even consider a career change. But the task can be daunting, so we put it off. But taking small steps towards such a goal are relatively easy. Spend a little time regularly making contacts, read and learn new skills while sitting at a cafe, or simply making your fuzzy daydreams a little sharper. It doesn't even have to be daily.
Changing Your Spending Habits
Habits are by definition almost subconscious behaviors, and very hard to break. This New York Times article "Can You Become a Creature of New Habits?" explores why using kaizen instead may be better suited to changing our habits as opposed to other more aggressive methods:
"Whenever we initiate change, even a positive one, we activate fear in our emotional brain," Ms. Ryan notes in her book. "If the fear is big enough, the fight-or-flight response will go off and we'll run from what we're trying to do. The small steps in kaizen don't set off fight or flight, but rather keep us in the thinking brain, where we have access to our creativity and playfulness."
If you want to start a budget, why not tracking your spending in just one category, like dining out?
Taking it another step further, instead of just saying "I need to eat out less", why not ask why you order out so much. For us, often times it is simply because we are tired and there is nothing easy to cook in the fridge. So I have started to keep a better stocked pantry and also make a regular schedule where I buy a small amount of "standard" fresh vegetables which are easy to incorporate. Each time I find a good recipe that uses only what is in my pantry, I write it down, so I slowly accumulate our own custom lazy-proof cookbook.
Kaizen Is All About You
These are just a few examples, and is kind of how I like to think of this blog. There are so many complex topics that are impossible to learn all at once, from investing to insurance to taxes. Every day I read and skim a lot of information, in the hopes of gleaming something a little useful that can help me get a little closer to leaving the rat race. It may just seem like little nothings, but when you add it all up together I know it has made a huge difference in our financial lives. But what may strike a chord in me might not apply to others, so it's all about taking what works for you and applying it.
So remember, as long as you learn or implement something a little new each day, you should be happy!