[Programming note: Posting will be light through the end of the year. Hope you have a restful and rejuvenating holiday season!]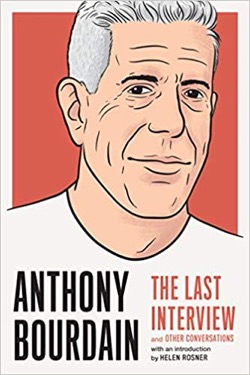 The WSJ article Anthony Bourdain: Feast of Memory (link should bypass paywall as I am a WSJ subscriber) briefly highlights four different books that all explore his life and legacy from different perspectives:
So far, I've only finished the first one. This observation hit close to home:
At the news of his death, millions of people mourned—and not the way that we mourn a commodity celebrity, with a sharp breath of sorrow and a fleeting salute and a sad-face post on social media. Millions of people mourned Bourdain the way you mourn a friend: primal, personal, disbelieving, unreal, unhealed.
A good Bourdain quote:
"I used to think that basically, the whole world, that all humanity were basically bastards," he tells John W. Little, in a 2014 interview for Blogs of War. "I've since found that most people seem to be pretty nice—basically good people doing the best they can."
On being an enthusiast:
I'm passionate to the point of being evangelical about things that I love, that give me pleasure, and make me excited. And, um, you know I didn't really travel until I was forty-two years old, I spent my whole life in kitchens. I'd seen nothing of the world. So, this is all still relatively new to me. People have been very kind to me. I feel very, very, very fortunate.

[…] I don't feel like I'm an advocate, or a spokesperson for anything. I'm just, you know, I'm an enthusiastic son of a bitch.
Bourdain made a huge dent in the world after the age of 44. I took special notice that he didn't publish his breakout book Kitchen Confidential until he was 44 years old. He wrote the book as memoir of sorts, by someone who felt at the end of his career. I am now 43 years old. I also feel at the end of some things, and smack in the middle of other things. Perhaps the trick is to also feel at the beginning of something new.