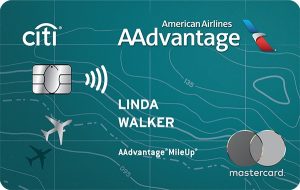 The American Airlines AAdvantage® Mile Up® Card is the no annual fee co-branded American Airlines credit card. It replaces the former and not-very-publicized Citi/AAdvantage Bronze card and adds a few new features. Here are the card highlights:
10,000 bonus American Airlines miles plus a $50 statement credit after $500 in purchases within the first 3 months.
2 AAdvantage® miles per $1 spent at grocery stores, including grocery delivery services
2 AAdvantage® miles per $1 spent on eligible American Airlines purchases
1 AAdvantage® mile per $1 spent on other purchases
Earn 1 Loyalty Point for every 1 eligible AAdvantage(R) mile earned from purchases.
Save 25% on inflight food and beverage purchases when you use your card on American Airlines flights.
No annual fee.
I view this is a niche card for those that want to earn American Airlines, but don't fly or spend enough to justify the annual fee of the other cards. Some folks just aren't willing to pay an annual fee, no matter how good the perks are.
Bonus details. If you find the spending requirement too high on many cards, note that this one only requires $500 in purchases to earn the account opening bonus. Note the following language:
Statement credit and American Airlines AAdvantage® bonus miles are not available if you have received a statement credit or American Airlines AAdvantage® bonus miles for a new AAdvantage MileUpSM account in the past 48 months.
This means that yes, you can still get the bonus on this card if you've had another co-branded American Airlines card from Citi in the last 24 months like the Citi® / AAdvantage® Platinum Select® World Elite™ Mastercard or the CitiBusiness® version designed for businesses.
No waived baggage fees. As you might expect, being the no annual fee version also means less perks. Notably, this card does not include any baggage fee waivers, which was a big potential source of savings from the other cards mentioned above (with annual fees). Also missing are priority boarding and the ability to book discounted award tickets ("Reduced Mileage Awards").
Redemption tips. American Airlines MileSAAver awards are still 25,000 miles for a round-trip ticket within the contiguous 48 states. Their online system is pretty good for looking for domestic AA awards. If the trip is less than 500 miles, then it is only 15,000 miles round-trip within the contiguous 48 states. Under-500 miles routes include Las Vegas to/from Los Angeles, Charleston to/from Miami, New York to/from Washington DC, Philadelphia to Boston, and many others.
Bottom-line. The American Airlines AAdvantage® Mile Up® Card is the no annual fee credit card from Citi and American Airlines. This card is a good fit for folks that don't want to pay an annual fee for extra features, but still want to earn American miles on purchases (and keep their miles from expiring from inactivity). As such, you may consider "downgrading" your other Citi/American cards to this card if you stop wanting to pay the annual fee. Note that if you downgrade you don't get the sign-up bonus, and getting the bonus from this card is independent of the bonuses from other Citi/American cards anyway.