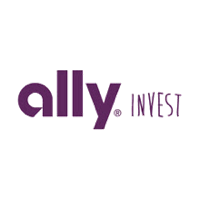 Ally Invest (formerly TradeKing) has rolled out their own commission-free ETF list to augment their $4.95 trades and no account minimums. As an existing customer, they sent a short e-mail with the following paragraph:
We're excited to announce that you can now trade some of our most popular ETFs commission free. We made sure to handpick a variety of funds that may fit your investment style, whatever that may be. They're a great way to diversify and another way we strive to be a better ally.
You can view the complete list of 100+ ETFs here. I see three major categories:
WisdomTree "Smart Beta" ETFs (all of them)
iShares Sector and ESG ETFs
6 iShares Core ETFs
Low-cost index ETFs. Here are their lowest-cost ETFs across the major asset classes. There are enough iShares Core ETFs to build a simple, low-cost portfolio with no commissions. I might have wished to see IEMG instead of ESGE or some more bond options, but otherwise these are not bad for portfolio building blocks.
iShares Core S&P Total U.S. Stock Market ETF (ITOT) 0.03% ER
iShares Core MSCI International Developed Markets ETF (IDEV) 0.05% ER
iShares MSCI EM ESG Optimized (ESGE) 0.25% ER
iShares Core U.S. REIT ETF (USRT) 0.08% ER
iShares Core 1-5 Year USD Bond ETF (ISTB) 0.06% ER
iShares Core 10+ Year USD Bond ETF (ILTB) 0.06% ER
iShares Core 5-10 Year USD Bond ETF (IMTB) 0.06% ER
iShares National Muni Bond ETF (MUB) 0.07% ER
This list is certainly not as "all-inclusive" as compared to the just-announced Firstrade free trades program but it is still a positive move, especially for those that already have an Ally Invest account and don't want to move assets. You may also have an Ally bank account and want to keep things together.
Commission-free ETF rules. There is a minimum holding period of 30 calendar days for commission-free ETFs, otherwise you will be charged a short-term trading fee of $9.90. This is equal to their normal trade commissions ($4.95 buy + $4.95 sell = $9.90). Commission-free ETFs will also not be margin-eligible for 30 days from the purchase date.
New account bonuses of $50 to $3,500. Ally Invest is still running their new account promotions of up to $3,500 cash bonus + 90 days of free trades. Here's the chart, the bonuses start at a $10,000 transfer or deposit.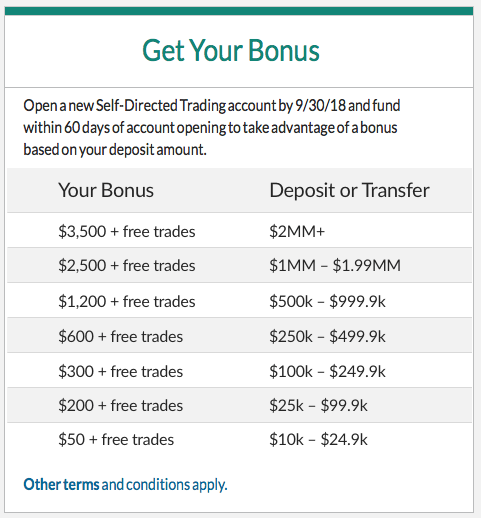 Up to $150 transfer fee credit. If you're already trading somewhere else, Ally Invest will reimburse up to $150 in ACAT transfer fees if you make a one-time transfer of $2,500 or more.
These promotions are stackable, so for example if you had $25,000 at E*Trade, you could move your existing holdings over (without having to sell anything) and get a $200 bonus while also having Ally Invest cover the transfer fee. You'd then have 90 days of commission-free trades to sell and buy as you wish.
Finally, I noticed that Ally Invest has a new "Select" tier where you get cheaper $3.95 trades and $0.50 options contracts when you maintain an average balance of $100,000 (or average 30 trades per month) for the past rolling 3 months.
Bottom line. Ally Invest has added a commission-free ETF list, which includes a few popular low-cost iShares Core ETFs, several iShares Sector/ESG ETFs, and every single WisdomTree ETF ("Smart Beta"). This is a continuing trend amongst online brokers. Ally Invest also has new account cash bonuses from $50 to $3,500.