Update. I've done a significant amount of my banking with Ally for years (checking, savings, and multiple CDs), but the "gateway drug" for me and probably most people will be their Ally Online Savings Account. You can use this savings account as a companion account to your existing primary checking account (perhaps at Chase, BofA, Wells Fargo, etc), or as a companion to the Ally Interest Checking account.
The Ally Online Savings Account has no minimum balance, no monthly fees, and currently pays 1.45% APY (as of 4/2/18). Their interest rates may not be the absolute highest, but they have consistently been within 0.10% of the temporarily top banks, making it not worthwhile to move my money. (See my rate chaser calculator). Let's go through the important factors.
User Interface. Below is a screenshot of the main page after logging in (click to enlarge). I can see all of my accounts and their balances at a glance. The overall design is clean and minimalist, and it was recently updated to be more mobile-friendly.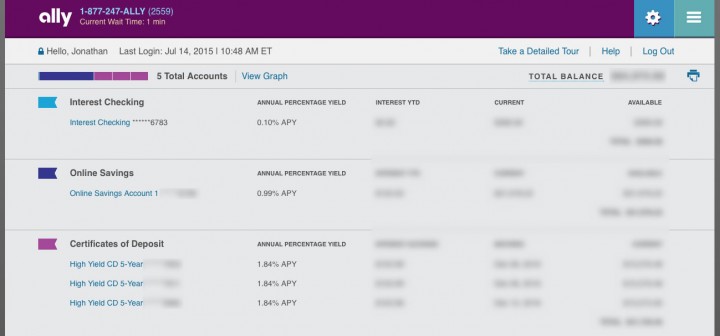 Customer Service. Ally Bank differentiates itself with their customer service. First of all, they are available 24/7 at 1-877-247-ALLY (2559). When you use their smartphone app or log into their website, you can see the wait time beforehand. Even better, if you don't want to call them you can just use their Live Chat feature.
Security. Ally Bank supports two-factor authentication with security codes sent via either e-mail or text message. They ask for a security code when you log in from a computer they don't recognize. However, if you've logged into that computer before with a security code, they may not ask you again and you can't choose to have two-factor authentication to always be in effect.
Awards. Ally Bank was named "Best Internet Bank" and "Best for Millennials" by Kiplinger's Personal Finance Magazine in July 2017. Ally Bank was named "Best Online Bank" for the 5th year in a Row by MONEY® Magazine in 2015.
FDIC Insurance. Ally Bank is a member of the Federal Deposit Insurance Corporation, FDIC Certificate #57803. As with other FDIC-insured banks, this means your Ally deposits are insured by the FDIC up to $250,000 per depositor, for each account ownership category.
Funds Transfers. With no physical branches, online savings accounts should have maximum flexibility as they are often secondary accounts (given most megabank checking accounts pay either no interest or a sad 0.01% APY). Ally Bank allows you to link any other external bank account using the standard routing number and account numbers. As long as you initiate the transfer before 7:30 pm Eastern Time, transfers both in and out are free and can take as little as 1 business day. You can link up to 20 different accounts (it used to be unlimited; but other banks limit to 3 or even just 1). This is about as good as it gets for online banks. Here's their updated timing chart (see details here):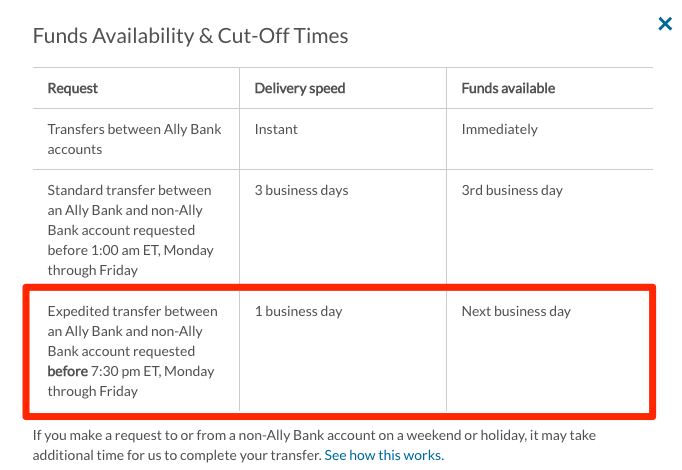 The transfer limits are also relatively high. On my accounts, I see that I have a $150,000 daily limit outbound and $250,000 daily limit inbound, with a total monthly limit of $600,000 outbound and $1,000,000 inbound. Keeping in mind that all savings accounts from any bank are limited to six withdrawals per month.
ATM Debit Card. You don't get a debit card with their Online Savings Account. You can get a debit card with either their Checking or Money Market accounts, but note that those have lower interest rates.
Mobile check deposit. You can use the Ally smartphone app to deposit checks using your smartphone camera. (This is in addition to using your computer scanner and/or free postage-paid deposit envelopes.) I'm not sure if this is the same for everyone, but my deposit limit is $50,000 which is higher than many other electronic deposit programs. I've used the app to deposit multiple checks without issue. Screenshot below.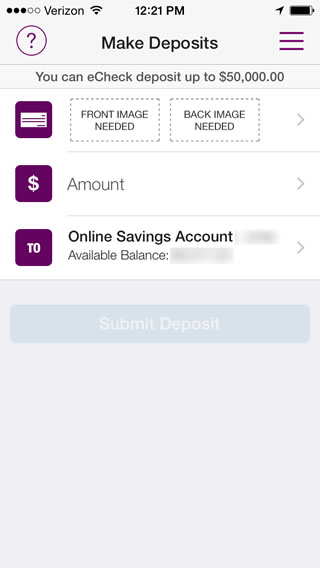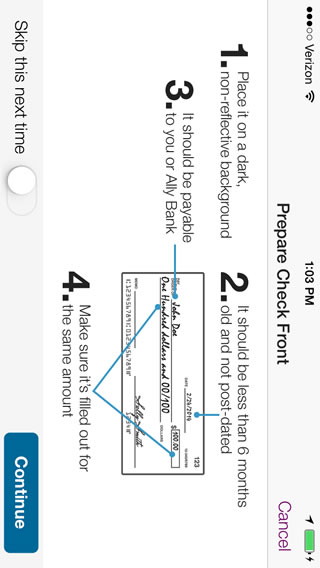 Mobile app. Available for iOS and Android… you can do all the important stuff – see transactions, transfer funds, deposit checks, pay bills. It can remember your username, but you must type in your password every time. I usually just use my Personal Capital app for checking balances. The overall design is acceptable, and the ATM locator is helpful if you have the Ally Checking account with free AllPoint ATMs and $10 in fee rebates each statement cycle for any ATM.
Details
Interest Compounding: accrued daily, compounded daily, credited monthly
Minimum to open: $0
Minimum requirements to avoid monthly service charge: None
Number of external bank account links allowed: 20
Routing Number: 124003116
Bottom line. The Ally Online Savings Account is a solid offering with with no monthly fees, no minimum balance requirement, and a historically competitive interest rate. Additional features like a flexible funds transfer system and solid 24/7 customer service help differentiate themselves from the competition. It works fine on its own as a "piggyback" or companion account to your existing checking account.
You can also combine it with the Ally Interest Checking Account (my review) which offers ATM fee rebates (up to $10 per statement cycle), free online billpay, and the ability to use the savings account as a free overdraft source. Ally also has certificates of deposit which offer competitive rates at times.