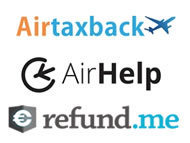 Have you been on a delayed, cancelled, or overbooked flight to/from Europe within the last within the last three years? Ever just missed a flight? You could be entitled up to $800 from the airline, or a refund of your taxes and fees.
AirHelp and Refund.me are services that help travelers claim compensation for certain flight problems. Too often, airlines convince folks to settle for food vouchers or drink coupons when they can claim cold, hard cash. Right now, they only appear to work with flights to and from the European Union. Specifically:
The flight passenger rights stated in the EC 261/2004. apply if you are leaving the EU with any airline or arriving in the EU with an airline registered in the EU (or Iceland, Norway or Switzerland). AirHelp helps passengers from all countries who have experienced delayed, canceled, or overbooked flights that are subject to this EU regulation.
You provide them with your information, and if they can use EU regulations to get your compensation (supposedly they'll even take them to court), they'll send it over (after taking a 25% cut). If they can't help, there is no cost for you. It seems like if you've already experienced a delay or cancellation, it wouldn't hurt to give them a shot. I haven't had the opportunity to use either of these companies, so I can't say which is better.
AirTaxback.com is a related service that helps travelers get back Taxes, Fees and Charges (TFC's) if you for any reason never went on a scheduled flight. Perhaps the flight was cancelled, you or a family member was sick, or even if you simply were late for the flight. Again, this appears to be based on European Union flight laws. They charges a finders fee in advance (from free to €10) after they determine that your application is valid and you are due a refund.
We estimate that in 2012 alone, airlines flying in and out of Europe held on to over €3.5 Billion in Taxes, Fees and Charges belonging to passengers that booked a flight but didn't travel" We are looking forward to working with the great people from AirTaxBack as this is one more area where most passengers are currently unaware of their rights and are met with indifference, when trying to claim themselves.