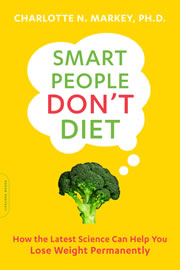 I'm currently reading Smart People Don't Diet by Charlotte Markey. The book offers a "science-based approach" to weight management backed by academic research from scientists, doctors, nutritionists, and psychologists. Sounded good to me. The main takeaway from the book so far is exactly what the title says: Diets don't work.
Why? You can't achieve permanent weight loss with a temporary plan. A diet is almost always a short-term gimmick, like "no carbs" or "eat only this smoothie for lunch" or buying meals from Nutrisystem. Once you go back to your original eating habits, you'll go back to your original weight. Therefore, any changes you make should be something you can maintain for the rest of your life. Can you really not eat bread ever again? Or eat processed frozen meals forever? For a few people yes, for most people no.
Looking at everything through the long-term "rest of your life" filter encourages you to consider carefully and find changes that are sustainable. Skip the ideas that are unreasonable (for you). These days, there is no way I am waking up early to work out every day. I will probably never be a vegan or even vegetarian. However, I can exercise twice a week in the evenings and reduce my portion sizes.
It feels natural to compare weight management and money management. For weight loss, you are consuming and burning calories. For personal finance, you are earning and spending money.
In terms of consuming less calories, this meant consciously choosing food that truly give me joy, and cutting back significantly on the rest. I love cheese, crusty bread, and roasted vegetables. I discovered that I could reduce the following to once a week or less without significant pain: beer, desserts, and red meat. Research supports the idea that for weight loss, eating less is far more important than exercising more.
In terms of managing my spending, I tried to identify the things that truly give me joy, and cutting back significantly on the rest. I plan to always spend a big chunk of money on travel every year. On the cutting room floor: I spend very little on clothing and entertainment, I never go to bars or clubs, and I dine out at restaurants less than once a week. Here, your savings rate is most critical, which places high importance on your income levels as well.
One-time actions can also be sustainable as you don't have to use up your willpower over and over, such as moving into a smaller house (lowering housing, maintenance, insurance, and utility costs all at once). In terms of eating, simply never allowing certain tempting foods to enter your home will help you avoid eating them (salty, crunchy things like potato chips are my weakness).
Can I keep all of this up forever? I don't know, some stuff I've already kept up for years, and others have only lasted the last 6 months or so.
I suppose you could argue that if you manage to accumulate a big enough pile of money, you could never have to work again. But even that assumes a certain level of long-term discipline, as many people with many millions of dollars still manage to go broke all the time.
No matter how much or how long you starve yourself, there is nothing that will allow you to eat junk food all the time without gaining weight again. On other hand, this also means that even if you eat horribly for a day or even over a month, you can still recover. Now I don't feel too bad about that bag of Cheetos I had for "lunch". 🙂
Which reminds me… taking the long-term view also means you need to expect failures, both financially or weight-related. The important thing is to accept that you stumbled, pick yourself up, and keep moving forward. You've got the rest of your life to go, right?