The NY Times Economix blog had a provocative post a few days ago about student loan debt, pointing out a government study that showed that 90% of bachelor degree holders had less than $40,000 in student loans shortly after graduating.
The chart below, using data taken from the Beginning Postsecondary Students Longitudinal Study (BPS) by the Department of Education, shows the percentage of beginning undergraduate students who, six years later, had accumulated more than the indicated levels of debt. One bar is for college entrants, and the second is for the ones who actually received a bachelor degree in that timeframe.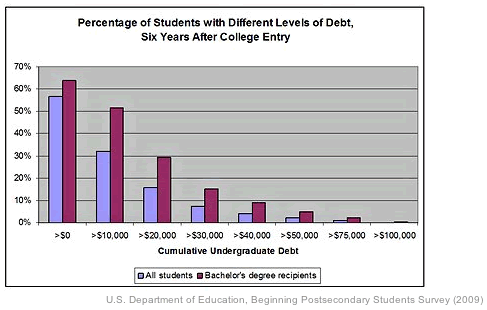 In a follow-up, the author clarifies that the study includes both federal loans and private loans via student survey.
The study does exclude PLUS loans (Parent loans). About 15% of bachelor's degree recipients have parents who took out PLUS loans.
The chart does not include loan debt from graduate school.
The chart does not include credit card debt incurred during school. According to a 2009 survey by Sallie Mae, the average student leaves college with $4,100 in credit card debt.
The chart does not include other debt (home equity loan) taken on to pay for education.
Debt amounts may grow over time as interest accumulates.
Only 10% with more than $40k in student loans? Only 1% with more than $75k? That's still a lot of money, but somehow seems less than I would have imagined. I could have easily left school with more than $40k in loans, and that was a decade ago.
I feel like something is missing. Perhaps part of it is the exclusions I listed above. Perhaps I'm thinking about how fast student loan debt is growing overall. In 2010, there became more student loan debt outstanding than credit card debt for the first time. Via Fastweb: