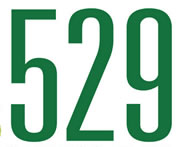 During the most recent State of the Union address, the President's proposal includes removing one of the current key tax advantages for 529 college savings plans. It is important to remember that this is only a proposal and is unlikely to pass a Congress with a Republican-majority. But it does serve as a reminder that the features of all tax-advantaged accounts are subject to future change.
Section 529 plans currently offer excellent tax advantages for college savings. You put in after-tax money, and that money is allows to grow on a tax-deferred basis, and as long as future withdrawals are used for qualified education expenses, there are no taxes on the back-end either.
The proposed changes are to now tax withdrawals (capital gains only) as ordinary income, leaving only the ongoing tax-deferral aspect. In exchange, the annual limits of educational tax credits would be increased along with other changes.
A quick history lesson on 529 plans. Per Wikipedia, Section 529 plans have only been around since 1996, and started out with withdrawals taxed as ordinary income. Tax-free withdrawals for qualified educational expenses were only added in 2001 on a temporary basis (scheduled to expire in 2010) but then in 2006 they were made "permanent" (not scheduled to expire). That is why this is referred to as a "roll back".
The concern now is that the tax advantages only benefit a small group of people (read: rich folks). From CNN Money:
An analysis by the Government Accountability Office found that in 2010 less than 3% of families saved in a 529 plan. The GAO estimated that families who saved in 529s had a "median financial asset value" that was 25 times that of families without a 529.

But the College Savings Foundation, citing an investment industry analysis, noted that in 2014, over 70% of 529 plans were owned by households with income below $150,000.
The lesson here is that not all tax benefits are considered "sacred", especially if they can be spun as rich vs. poor. For example, in my opinion the ability to inherit IRAs ("Stretch IRAs") in order to give your children decades more of tax-free growth probably won't last forever. But the idea of taxing Roth IRA withdrawals would be very hard sell as it would broadly affect people across various income levels.
I don't think I would have minded if this was for a newly-designed plan, but I dislike the idea of penalizing the many families (like myself) who have placed their money in a 529 due primarily to the promised tax benefit (which can't be withdrawn early without penalties). (Edit: The proposal language actually only refers to "new" contributions, so existing contributions should be grandfathered. Might make for some confusing accounting.) Still, as the parent of two kids under 3, I have to decide whether to keep putting money into these things without knowing what the rules will be in the future.
More: WhiteHouse.gov, WSJ