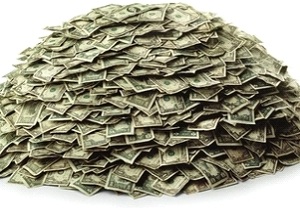 Winner Announcement! The contest is now closed. The winning entry was picked using Random.org with the Timestamp: 2012-12-25 03:28:18 UTC. Congratulations to Anthony T (aXXXXXX@gmail.com), the lucky winner of $2,500. You should have received an e-mail notification to your registered e-mail address. Thanks to all who entered, and I wish everyone a very happy holidays.
One of the great things about being a blogger online is that you're part of a community.  Years and years of blogging have created a lot of good friendships, and today, five friends and I are able to put together a cash giveaway, totaling $15,000.  If you recall, we had a $10,000 giveaway last year that was a roaring success, so I'm hoping this year is even better.
To enter the giveaway this year, the following rules must be agreed to:
In order to participate, you must sign up for the MyMoneyBlog.com RSS Feed and complete a short five question survey.  The link to the survey can be found HERE.
Only one entry per person (duplicate entries on the same website will disqualify you from winning the $2,500 prize on that site)
Winner must be a US resident
The giveaway begins Wednesday, December 12th and concludes Sunday, December 23rd at 11:59 pm ET.  The morning of December 24th, a winner will be chosen at random, (using Random.org), announced on the site and will have 72 hours to provide their name, address and social security number for tax purposes (yes, this $2,500 will count as miscellaneous income toward your 2013 taxes)
The email address you enter in the survey must match the email address you use to subscribe to the MyMoneyBlog RSS Feed.