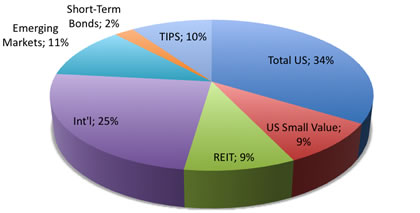 Retirement Portfolio
Actual
Target
Asset Class / Fund
%
%
Broad US Stock Market ($64,794)
33.8%
34%
VTSMX – Vanguard Total Stock Market Index Fund
DISFX – Diversified Stock Index Institutional Fund*
FSEMX – Fidelity Spartan Extended Market Index Fund*
US Small-Cap Value ($17,554)
9.1%
8.5%
VISVX – Vanguard Small Cap Value Index Fund
Real Estate (REITs) $18,004
9.4%
8.5%
VGSIX – Vanguard REIT Index Fund
Broad International Developed $46,820
24.4%
25.5%
FSIIX – Fidelity Spartan International Index Fund*
International Emerging Markets $21,678
11.3%
8.5%
VEIEX – Vanguard Emerging Markets Stock Index Fund
Bonds – Short-Term $4,484
2.3%
3.8%
VFISX – Vanguard Short-Term Treasury Fund
Bonds – Inflation-Indexed $18,568
9.7%
11.3%
VIPSX – Vanguard Inflation-Protected Securities Fund
Total Portfolio Value
$191,902
* denotes 401(k) holding given limited investment options.
Like many others, for most of this year I've just been trying to keep my head down, make my regular stock contributions like a good boy, and not looking at my statement balances too much! There's been a lot of "wow, my portfolio isn't so bad anymore" talk due to the recent market run, so I figured it was time for a checkup. You know of course, that this also means the market will tank today… 🙂
Contribution Details
So far in 2009, we have made the following contributions:
$5,000 x 2 for 2008 non-deductible IRA contributions
$5,000 x 2 for 2009 IRA contributions
$33,052 for both of our 401k contributions, including salary deferral and company match. One is maxed out, the other has a little left to go.
2009 Performance
In my last update back in April, I had found our year-to-date performance to be about -15%. According to my spreadsheet, the 2009 year-to-date dollar-weighted performance of our personal portfolio is now 41% YTD.
For reference, the Vanguard S&P 500 Fund (VFINX) has returned 20.52% YTD, their FTSE All World Ex-US fund (VFWIX) has returned 35.72% YTD, and their Total Bond Index fund (VBMFX) is 5.11% YTD as of 9/18/09. The Vanguard Target 2045 Fund (VTIVX) has returned 23.4% YTD, which as a similar stock/bond breakdown to our portfolio, but less international exposure. Part of the good relative performance (which was previously relatively poor) is also likely due due to the timing of my large lump-sum investments.
Investment Changes
We have used our new contributions to keep us close to our asset allocation target, with a 85% stocks/15% bonds split. Right now, we are not too far off. The target percentages for each asset class are shown above as well. Currently, with the run-up in equities, we are a bit underweight in bonds.
You can view all my previous portfolio snapshots here.