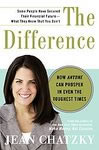 I recently received a review copy of Jean Chatzky's The Difference: How Anyone Can Prosper in Even The Toughest Times, where she attempts to understand why some people easily move from barely getting by into a life of comfort and/or wealth, while others get stuck or even fall backwards. What are the attributes that set them apart?
From her research, she divided people into four groups: The wealthy, which have on average assets of $2 million, not including home equity. The financially comfortable, who save regularly and have a financial cushion. The paycheck-to-paycheck, who are getting by but are one unexpected expense away from stumbling into the last group, which are the further-in-debtors. Here's how the population breaks down: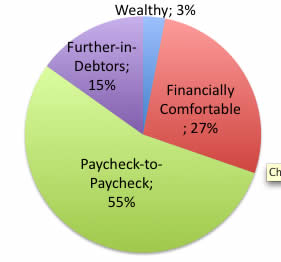 20 Factors
As you can see, plenty of people are living paycheck-to-paycheck. But what about those who only used to live that way? She found that 75% of the wealthy and nearly 100% of the upper-middle class originally came from middle class backgrounds.
Here are what Chatzky says are the twenty key elements of those people who improved their situations. You don't need to have them all, but she says that you need, on average, ten factors to make your way to financial comfort.
Financial Attitudes
– feel stocks are worth the risk
– devote money to savings
– save regularly for emergencies
– invest for retirement
– reduced debt
Goals
– want to retire comfortably
– want to be financially comfortable during working years too
– always knew what they wanted to do for a career
– made it a goal to accumulate $1 million
– want to own a home
Personality
– are confident
– happy
– optimistic
– competitive
– leaders
Nonfinancial Behaviors
– have a college degree
– socialize with friends at least once a week
– exercise at least 2-3 times a week
– read newspapers regularly
– are married
Sounds simple enough, eh? I call some of these "duh" factors. The rest of the book tries to explore these factors and ways to actually get yourself to really believe and/or achieve them, since simple doesn't mean easy. For one, there are many levels of "wanting" – do you have the resolve to make it happen? Or, how is exercise related to wealth?