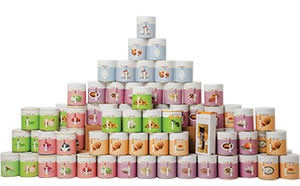 Costco is selling an entire year's supply of food for $800. That's only $67 a month. Made by a company called Shelf Reliance, it's all freeze-dried or dehydrated and is primarily marketed as emergency food (10-20 year shelf life). However, it also claims to taste pretty good, and they suggest to use it in rotation as a regular meal supplement.
The THRIVE 1 Year Food Supply comes complete with 78 #10 cans ranging 5 food groups: grains, fruits, veggies, meats & beans and dairy. With over 4,700 servings and many foods with a shelf life of up to 20 years, this package will give you variety, nutrition, and peace of mind. In addition to the high quality foods this package provides, a wheat grinder is included.

* 1 Year Food Supply for 1 Person
* 6 Month Food Supply for 2 People
* 3 Month Food Supply for 4 People
* Shipment arrives in 14 separate boxes
* Freeze-dried products have up to a 20 year shelf life if unopened
* Dehydrated products have up to a 10 year shelf life if unopened
* Simple rehydration instructions, recipes, and helpful tips on each can
* 4723 total servings
* Seventy-eight #10 cans
* Wheat Grinder included
I could not find any good in-depth reviews of how this product actually tastes and/or looks when prepared. Anyone out there try it before?